The Amazing Spider-Man 2 swings to Europe in May
Pre-order bonus costumes announced.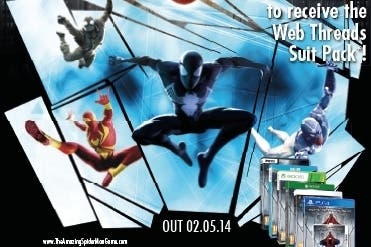 The Amazing Spider-Man 2 is now dated for a 2nd May release in the UK on PS4, Xbox One, PS3, Xbox 360, Wii U, PC, and 3DS.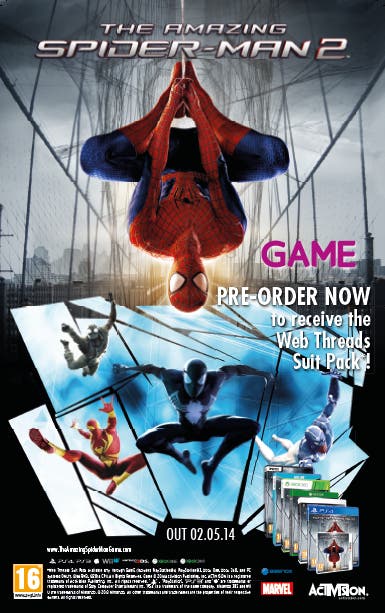 North Americans will receive it on 29th April. This isn't especially surprising as that's the same week the film is released, but it's still nice to have confirmation.
Those pre-ordering at GAME in the UK and GameStop in North America will receive the Web Threads Suit Pack PLC, which contains four alternate costumes for the web-slinging hero. There's the red and gold Iron Spider Suit, the blue and white Cosmic Spider-Man Suit, the pulp-style Spider-Man Noir Suit, and the Venom-like Black Suit. Each will come with their own unique combat bonuses, thought it's not clear what exactly these are. Perhaps the Black Suit will allow Peter Parker to poorly dance his enemies to death?
The Amazing Spider-Man 2 is developer Beenox's fourth crack at the superhero series. The studio previously worked on 2010's Spider-Man: Shattered Dimensions, 2011's Spider-Man: Edge of Time, and 2012's The Amazing Spider-Man - which only made its way to Vita last November.
EG-contributor Dan Whitehead was lukewarm on the first Amazing Spider-Man, which he compared unfavourably to the first Assassin's Creed. "The Amazing Spider-Man is not a bad game, but it's not the game it could have been," Whitehead stated in his review. "For all the elements borrowed from the Arkham games, the comparison that most often sprang to mind while playing it was the original Assassin's Creed. That, too, had an interesting world and an intuitive, enjoyable method of traversing it. It also had a thin crust of gameplay on top that crumbled the more you poked at it."
But hey, Assassin's Creed 2 built heavily upon its predecessor's foundation and the two year gap between the last Amazing Spider-Man and this one suggests that Beenox might realise the potential it hinted at before. Let's hope so anyway.