The 3rd Birthday has a shower scene
Square Enix caves to fan demand.
PlayStation Portable action game The 3rd Birthday will have a shower scene because fans demanded it.
In August director Hajime Tabata said the game, which features sexy starlet Aya Brea, would not include a shower scene because there wasn't a place to put it in.
The news disappointed long-term fans of the Parasite Eve series – Parasite Eve II included a brief but steamy shower scene.
Now, The 3rd Birthday, due out in Europe in the spring, has one too.
Tabata posted a picture of Aya in a shower on Twitter (reported by Siliconera). You can see it for yourself below.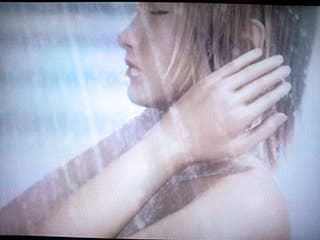 The decision comes after legendary Final Fantasy producer Yoshinori Kitase insisted that Square Enix was not intentionally courting attention with The 3rd Birthday.
Kitase said the gradual ripping of heroine Aya's clothes as she fights beasties is "plausible and realistic", and if gamers get off on it, well, so be it.
"You may actually find some of the features erotic or sexy. But that's not our intention, really," he told Eurogamer.
"For example, Aya, as she continues to fight, sometimes what she's wearing gets ripped and torn to reveal more of her skin, which lots of gamers may find quite sexy.
"But we didn't do that because we wanted to show her in a very sexy light. It's more like that's reality. If you keep fighting obviously you'll get ripped and damaged and injured and wounded.
"So we just wanted to make it plausible and realistic. That's all."