3rd Birthday's shower scene is steamy
Japanese censors raise content rating.
The shower scene in upcoming PlayStation Portable game The 3rd Birthday is so steamy it has forced Japanese censors to raise the game's content rating.
According to producer Yoshinori Kitase, the shower scene teased last week with a solitary image "really toes the line" (we assume something was lost in translation here).
It's so provocative that CERO, Japan's game rating organisation, raised The 3rd Birthday's content rating from C to D, Japanese magazine Famitsu reports (translated by 1UP).
While Kitase now understands the benefit of showing gamers sexy starlet Aya Brea getting wet, he wasn't convinced at first.
"I think this is a great game and I'd like to get gamers of as many ages as possible to play it, so putting in a shower scene that'd up the CERO rating wasn't something I was particularly gung-ho for," he said.
"However, Aya's attractiveness is one of the most important elements of this game, so I wound up seeing the benefits of it in the end. I'm telling you, though, that scene really toes the line!"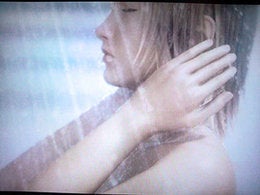 The shower scene has to be unlocked by earning in-game achievements, apparently. They won't be difficult to earn.
Meanwhile, director Hajime Tabata revealed that developers deliberately designed the third-person action game to be difficult.
"I'm not sure there are a lot of games like that any longer," he said. "We wanted The 3rd Birthday to be a PSP gun-action title with some real teeth, and as a result of that, I think people who aren't really good at games may find normal mode difficult to start with. Going that way makes it more fun to work your way through the game, but if you don't have the confidence for that, you can always start on easy."
And despite the fact that the game is yet to be released, Square Enix is thinking about a home console sequel. It'll all depend, of course, on how The 3rd Birthday is received.
"If we do make another game, it's going to be on a home console," Square Enix creative mastermind Tetsuya Nomura said. "If this game was like making a TV series, I want the next one to be like making a film. I think it'd be great if we could make this series into something we can take on the worldwide shooter marketplace with in the future."