Technical issues preventing new players from accessing latest Marvel's Avengers beta
UPDATE: Square says email issues resolved.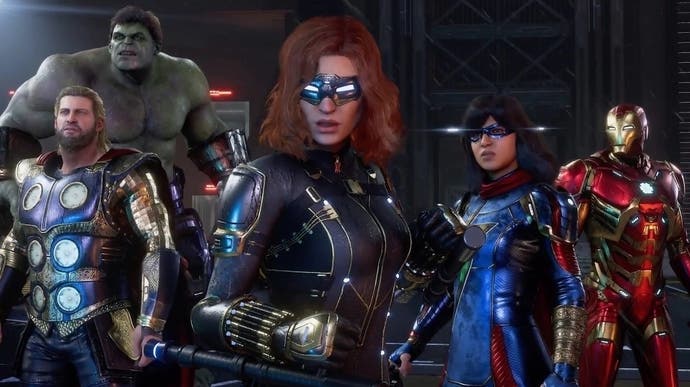 UPDATE 5.38pm: After an afternoon of frustration for players eager to access the Marvel's Avengers beta for the first time, Square Enix says it has finally remedied issues preventing confirmation emails from being received during the registration process.
"The email queue is cleared and emails should be going out regularly now!," the publisher wrote in an update posted to the official Marvel's Avengers Twitter feed, "Thank you for your patience!". Hopefully that particular nuisance is now resolved once and for all.
Unfortunately, players are still reporting a range of other technical issues, including beta sessions being constantly interrupted by "No internet connection" pop-up warnings. Square is yet to acknowledge any of these additional concerns, however.
---
ORIGINAL STORY 5.10pm: New players eager to embark on Square Enix's latest Marvel's Avengers beta weekend are struggling to get in on the action thanks to heavy demand being place on its account registration process.
This latest beta weekend is a bit of a biggie, of course; while developer Crystal Dynamics' previous beta session was limited to PS4 players that had pre-ordered Marvel's Avengers, this latest event opens the gates to everyone that pre-ordered on PC and Xbox One, and any Virgin Media customer that fancies getting stuck in, regardless of pre-order status.
That substantially increased demand, plus publisher Square Enix's decision to insist that everyone registers for one of its accounts before they play, has taken its toll on proceedings, leaving many new players unable to access their promised beta window.
Square has acknowledged that it's "currently experiencing a high volume of Square Enix Members account registrations", which in turn has lead to delays in confirmation emails being dispatched to eager players.
Despite offering assurances that it was "actively working on addressing this" earlier today, posters on the official Marvel's Avengers subreddit and Twitter feed are still reporting, four hours after the initial message, significant delays in receiving their confirmation emails, and thus accessing the beta. Unfortunately, Square is yet to offer any further updates on the situation.
Hopefully issues will be resolved soon, and I'll update this story as more transpires. Full Marvel's Avengers beta details for the coming weeks can be found here.