TBT: The Black Tower recalls the glory days of PSone RPGs
A tiny French team's love letter to late 90s Final Fantasy.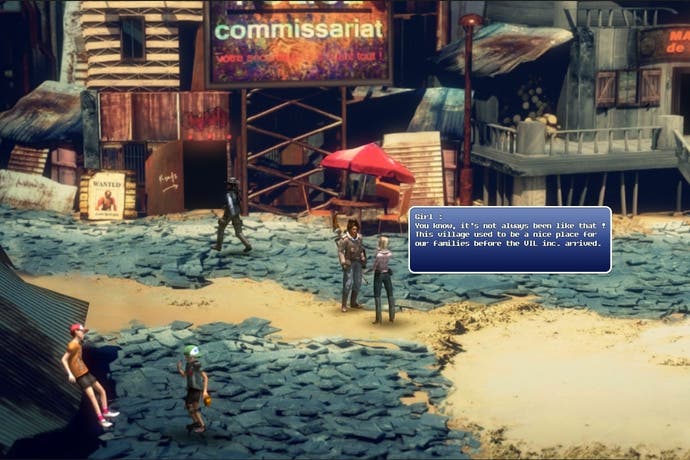 French developer Simon Mesnard's upcoming PC and Mac turn-based RPG TBT: The Black Tower seemingly hails from the golden era of early PSone RPGs when pre-rendered backdrops were the name of the game and men carried swords twice their size.
Okay, in some ways things haven't changed much, but the pre-rendered backdrops went out of vogue over a decade ago when open world games became the norm and the "see it, go to it" mentality replaced the "see it, and leave the rest to your imagination" one.
TBT: The Black Tower follows the story of a ranger named Philippe whose astronaut father disappeared searching for a strange black cube he found on an alien planet. A mysterious girl later appears before Philippe wearing a similar black cube around her neck. True to 90s RPG form, hijinks ensue and the world needs to be saved.
Unfortunately, Mesnard's throwback will also bring with it one of the most frustrating bugbears of that era: random encounters. Mesnard noted on the TBT development blog that this was due to the "2.5 person" team's limited resources, but the good news is it will help keep load times down. "With the power of current PCs, linked with our choice of lowpoly 2.5D graphics, we can greatly shorten the loading time before starting a new battle... On top of that, I don't want any ending fanfare, so when you finish the fight, you come back almost immediately to the game."
Mesnard admitted that the translation may be rough in the prototype, but explained on Steam Greenlight that he'd "make a Pro translation" if the game is completed.
Still, even with the rough translation it looks like a loving tribute to the days of yore, and it's especially impressive for a team that small. Check it out in the prototype trailer above.