Surprise! Elite: Dangerous is now on Steam
Just in time for Easter.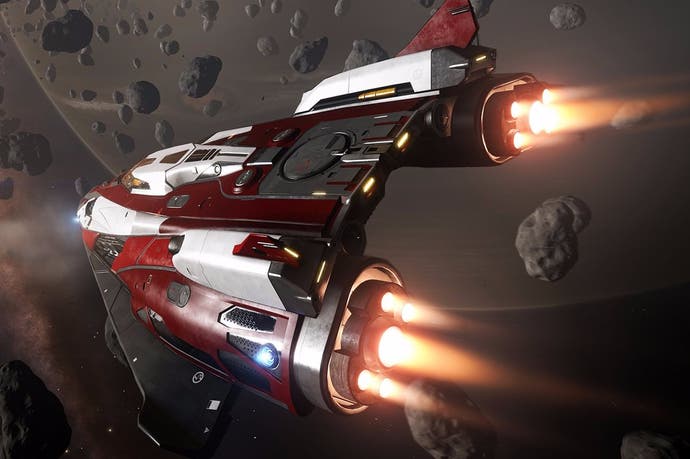 Frontier has released its space game Elite: Dangerous on Steam.
The game just went live on Valve's platform, where it costs £39.99.
Those who buy the Steam version of Elite: Dangerous can play with friends on Mac [the Mac version isn't out yet] and PC who bought from EliteDangerous.com. "There is no functional difference between the Steam and EliteDangerous.com versions of Elite: Dangerous," Frontier said.
Those who buy the PC version on Steam get immediate access to the Mac version when it's released, and will be able to play using the same profile on both platforms, Frontier added.
Elite: Dangerous can be updated automatically by Steam as well as via the game's launcher. But DLC needs to be bought from the Elite: Dangerous web store. Beta versions won't be released on Steam, either.
"Access to beta versions is given for early access customers who helped to crowd-fund the game," Frontier explained.
"Those people will see any available betas on the list of available options on their Launcher. If you do not see any Beta option there then either we are not currently running a beta, or your account does not allow you access to the beta tests. Unfortunately beta access is no longer available to purchase at this time, so only players with existing access will be able to see this option."
For those who already own Elite: Dangerous, there is a way to add your existing game to your Steam library.
As executive producer Michael Brookes explains on the Frontier forum:
"To add your existing Elite: Dangerous install to your Steam library and use Steam overlay in Elite: Dangerous, click Games > Add a non-Steam game to my library and add EDLaunch.exe, ordinarily located in C:\Program Files (x86)\Frontier\EDLaunch\ on a PC."
However, Brookes confirmed there's currently no option for those who already own Elite: Dangerous to add it again as a Steam game. So, no Steam achievements or Trading Cards - for now.
"Not immediately, but we'll see," Brookes added.
Will Frontier give those who already own the game a Steam key? "We'll look into it and go from there," Brookes said.
Elite remains available to buy from Frontier's online Elite Dangerous shop, too.