Sunless Sea creator's Cultist Simulator has a release date
Ready, sect, go.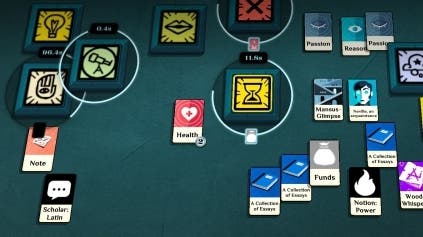 Cultist Simulator, the card-based narrative horror game from the brains behind Sunless Sea, will launch on Thursday, 31st May.
Specifically, it will arrive at 7pm UK time, or 12pm Pacific time for our friends on further shores.
Cultist Simulator is the first game to come from Weather Factory, the two-person studio formed by Failbetter Games founder Alexis Kennedy and ex-Failbetter producer Lottie Bevan.
The DNA behind the game's arcane and mellifluous language is pretty clear to see - and if you played and liked Fallen London or Sunless Sea then this should be on your radar.
Here's a new trailer, which promises you powers such as being able to found a religion, indoctrinate innocents and summon alien gods:
Johnny recently played Cultist Simulator for a Let's Play and liked what he saw. "It's calming and soothing and monstrous and mysterious all at once," he reported. "It's kind of like operating a whole bunch of different microwaves at the same time, but you're not cooking up food you're cooking up monsters and possibly starvation and death."