Starhawk public beta begins next week
PlayStation Plus subscribers get first dibs.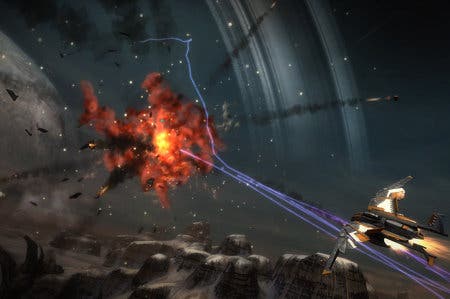 A public beta for forthcoming PlayStation 3 shooter Starhawk kicks off on 18th January, publisher Sony has announced.
"This is a crucial step for us as we'll be testing all sorts of things, including game balance, server traffic, and general bugs," wrote senior producer Florence Kum on the PlayStation Blog.
"This is also a chance for more players to finally see what we've been working so hard on."
PlayStation Plus subscribers will be granted access on the 18th alongside anyone who participated in the recent private beta.
Then on 1st February all those who redeemed the Online Network Pass found in copies of Uncharted 3 can sign in.
Common-or-garden PSN riff-raff will then be permitted to join the fun on 22nd February.
Sony didn't reveal what content will be playable, but confirmed that it will be multiplayer only. No firm end date has been set for the beta.
"When the game is good and ready!" said Kum in an FAQ.
"Honestly, when we've learned all we can and feel we can deliver the best product to you. BUT it's our recommendation that you do not delay joining or you might find your window of opportunity passing you by."
Have a glance at Eurogamer's recent Starhawk preview for more on the follow-up to 8/10 2007 effort Warhawk.