StarCraft 2 becomes a tactical turn-based RPG with the introduction of paid mods
Pro-mods.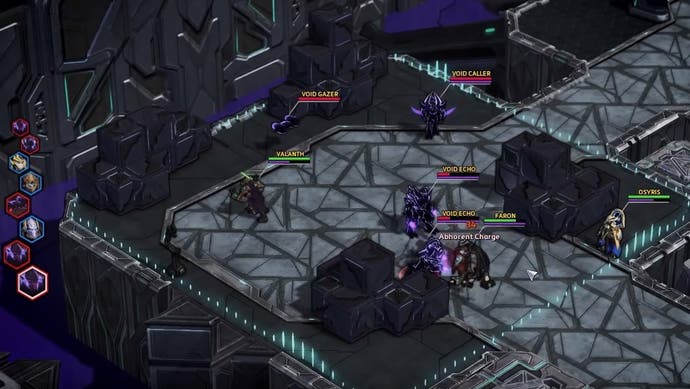 Blizzard has jumped into the thorny issue of paid mods with its real-time strategy game StarCraft 2.
Two premium Arcade maps will soon be available to buy: ARK Star and Direct Strike, each costing $4.99 with a share of the sales going to the creators.
ARK Star, by Daniel "Pirate" Altman, follows the adventures of the Sol Seekers, an elite team of templar on a mission to find and destroy a weapon known as the ARK Star.
You can find and craft new equipment, level up and unlock new talents and abilities. And the combat is tactical and turn-based. Check it out in the video below.
Elsewhere, Direct Strike, by StarCraft modder Tya, is a premium version of Direct Strike HotS, one of StarCraft 2's most popular Arcade maps ever. For the uninitiated, Direct Strike pits players against each other in a tactical tug of war. You build units to spawn into your staging area, and send them out in waves to assault the enemy base. Check it out in the video below.
Blizzard, which has worked with both Pirate and Tya over the last year, said ARK Star and Direct Strike are "epic examples of what Arcade developers are capable of", but questions remain over the rights and wrongs of paid mods.
Back in April 2015, Bethesda removed the option to sell Skyrim mods on Steam after a backlash that ended up with Valve offering full refunds.
Then, in 2017, Bethesda announced a new initiative called Creation Club for Fallout 4 and Skyrim Special Edition. The reaction to Creation Club was mixed.
StarCraft 2's paid mods initiative is a long-time coming. Blizzard announced plans to allow the mod community to sell content on a StarCraft 2 marketplace way back in 2009. It's taken nearly nine years for these plans to become reality.
Back then, the company's design chief Rob Pardo, who has since left Blizzard, envisaged this would eventually lead to much more highly-evolved mod content from creators with a budget, drawing a comparison with the Day of the Defeat mod for Counter-Strike.
He hoped to see creators able to create more of their own assets than they did with examples like Warcraft 3's famous Defence of the Ancients (which sparked the MOBA craze), and to see StarCraft 2 attract the best amateur game designers away from other platforms like Steam.
There's more on StarCraft 2 paid mods, which launch alongside Patch 4.3, on the official website.