Square Enix announces Drakengard 3 Collector's Edition
Japanese voice over - but still no disc on these shores.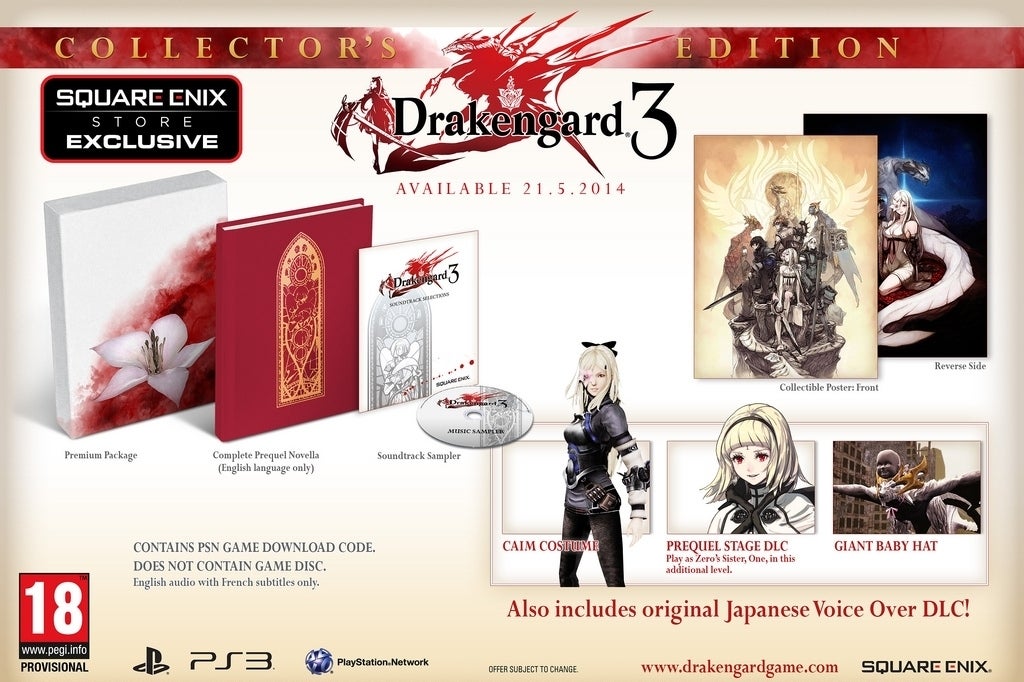 Square Enix will release a Collector's Edition of PlayStation 3 exclusive action role-playing game Drakengard 3 that includes the Japanese voice over - but not a game disc.
When the publisher announced it planned to release the game on these shores as a PlayStation Store download only, some called for a physical version.
Today Square Enix responded to that feedback by revealing the £69.99 Collector's Edition - but it doesn't include a physical copy of the game. Instead in includes a download token which you redeem on the PlayStation Store.
It does include some physical gubbins, however. The Collector's Edition is a clamshell box, and inside is a 160-page hardback prequel novella, download tokens for a costume, an additional level and a giant baby head for your dragon.
There's also a music sampler CD which includes a selection of tracks from the game's original soundtrack, composed by Keiichi Okabe of Nier fame. And there's a double sided poster.
Of particular interest is the inclusion of a download token for the original Japanese voice acting. While this DLC is part of the Collector's Edition it will also be available to those who pre-order the standard digital game through the PlayStation Store, Square Enix said.
The Collector's Edition will be sold exclusively from the Square Enix Store. Only 2000 have been made. The game launches on 21st May.
Square Enix Europe executive Larry Sparks said: "The Collector's Edition has been produced in response to fans' requests for it to be made available across PAL territories.
"We always listen to our audience and investigate what can be done. The new methods of digital publishing allow us to deliver games directly to fans and for Drakengard 3 - it means we can offer a core fan base something they requested - the opportunity to own the game in a boutique physical Collector's Edition."