Spin the Bottle dev wins top honours at the Oculus VR Game Jam
Behold, Virtual Internet Hacker.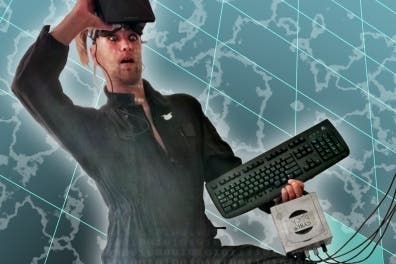 Earlier today Oculus announced the winners of its VR Game Jam, in which the VR headset manufacturer tasked indies to create Oculus titles - or at least prototypes - to show off at this year's IndieCade Selection. Entrants were split into two categories: Open Call and Selected Developers. The former was open to anyone, while the latter was reserved for previous IndieCade developers.
The grand prize in each category will receive $10,000, Oculus footing the bill to send the developer to IndieCade, an invitation to meet the Oculus team at its headquarters, and Oculus will promote the winners.
The big winner in the Selected Developers category was Lau Korsgaard's trippy hacking game Virtual Internet Hacker. Korsgaard, as you may recall, was one of the lead designers on Spin the Bottle: Bumpie's Party. His latest Oculus curio allows players to move through a real website as its graphics and page layouts are stretched out in a honeycomb-like formation.
Here's how it works: you enter a URL (any URL), then move through a 3D labyrinth based on that site's art while trying to hack nodes. Firewalls are depicted as red zones and you can't hack from within them. The quirky control scheme has you mash a bunch of buttons then hit space to transfer those key presses into movement. The more you bang on your keyboard, the faster you'll move.
"The idea was to make a game where you looked really badass," Korsgaard told me in an e-mail exchange, "I think the Oculus Rift is a really social experience, there is always a crowd gathered around when we play with it. We wanted to make a game for that context! In many ways, the Oculus Rift is much like motion controlled games, if you don't enjoy the fantasy you'll just end up feeling stupid."
Oh, and if the game didn't sound psychedelic enough, get a load of this poster.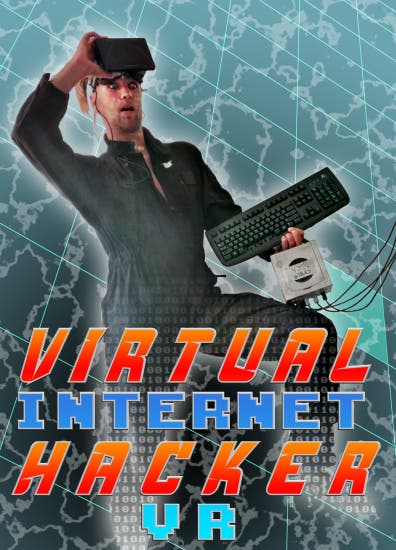 Meanwhile, the top honour in the Open Call ring was Ed McNeill's puzzler Ciess. McNeill described it as "an action/puzzle/strategy hybrid" that's "fast-paced and cerebral at the same time."
"The game seeks to immerse the player in a fantasy (of being a Hollywood/cyberpunk hacker), and it experiments with extreme motion while aiming to avoid simulator sickness," the developer explained. "By divorcing the game world from any semblance of reality, the game retains the freedom to play with distance, scale, and movement in non-realistic ways."
Both titles have movement tied to the Oculus, so they require the VR Headset to play. So if you have an Oculus, check them out. If not, watch these snazzy videos to see what sort of crazy cyberpunk hijinks you can get into if the Oculus becomes the status quo in the near future.