Spelunky 2 arriving on PC "a few weeks" after PlayStation 4 version
Miner delay.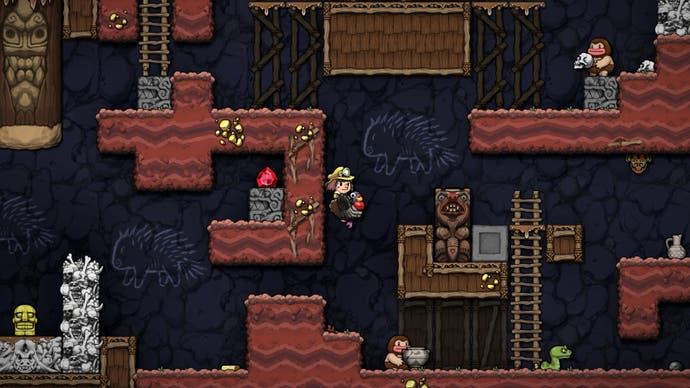 PC players eagerly awaiting the arrival of Spelunky 2 now have a time frame to work to as they attempt to manage their mounting enthusiasm; according to developer Derek Yu, it'll be arriving "a few weeks after" the PlayStation 4 version.
If you're looking to narrow that window down further, Spelunky 2 will be heading to PS4 on 15th September. And with a recent tweet from Yu, confirming he's "aiming to get the game out on Steam no later than a few weeks after" that, it seems reasonable to expect the PC version to release late September/early October, barring any unforeseen hiccups.
Discussing the staggered release further in a follow-up tweet, Yu explained the team will be using the extra time "to make sure that Spelunky 2 runs well on PC. That includes testing online multiplayer, but it's not the only thing we'll be busy with."
Spelunky 2, which takes its subterranean adventure to the moon, has been designed so fans of the acclaimed original can hop in and "feel like they're playing a continuation, both storywise and mechanically", while also expanding significantly on its much-loved core.
To that end, its procedurally generated rogue-like platforming will be bolstered by the likes of new items, areas, monsters, traps, and liquid physics for some unexpected obstacles, alongside rideable mounts and online multiplayer.
We'll now how Spelunky 2 fares against its beloved - and Eurogamer game of the decade ranking - predecessor when it find its way PS4 and Steam soon.