Here's a first look at Spelunky 2's expanded subterranean gameplay
Liquid physics! Rideable mounts! Online multiplayer!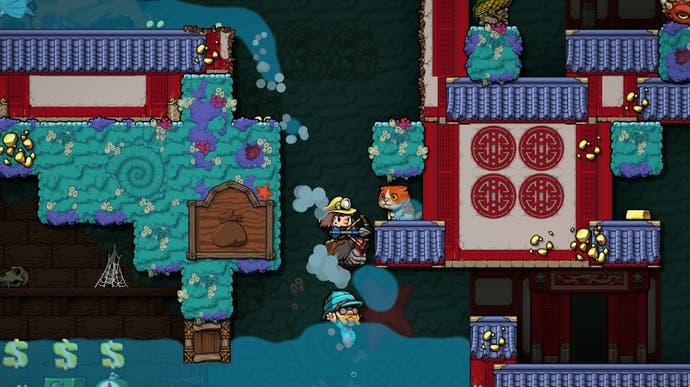 Spelunky 2 is heading to PC and PS4, don't you know, and that's pretty much all we've be told since the game was revealed back in October last year. Now, however, we know a little more - thanks to words and a brand-new gameplay trailer, courtesy of Spelunky creator Derek Yu.
Spelunky 2, which is being developed by Yu's studio Mossmouth, alongside Blitworks, follows the adventures of Ana Spelunky, daughter of the first game's protagonist, and her pals - which include, for reasons unexplained, a very spritely Sloth. In an interview with the PlayStation Blog, Yu explained that Spelunky 2 has been specifically designed to so that series fans can "jump in [to the sequel] and feel like they're playing a continuation, both storywise and mechanically".
To that end, the rogue-like, procedural platform core of the first game remains (and it's still "very challenging", according to Yu), but the sequel ushers in many new features, "that, when added up, really make the game feel different". For starters, alongside the expected new items, areas, monsters, and traps, Spelunky 2 introduces rideable mounts and online multiplayer.
Additionally, levels are now more complex, featuring a second "layer" which players pass between - sometimes through easily accessible entrances, and sometimes only navigable through a hidden shortcut. This, says Yu, "adds a feeling of a third dimension to the exploration", even though the game remains staunchly 2D.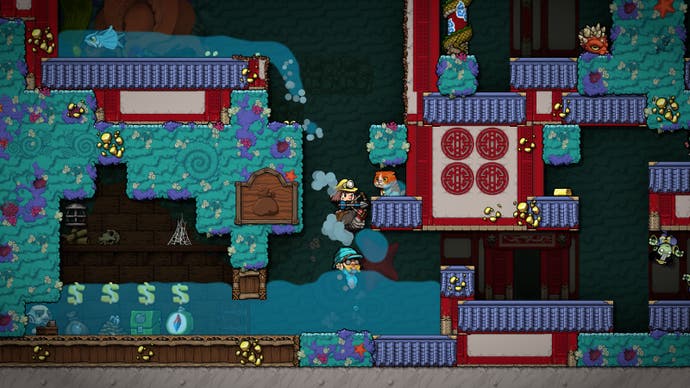 Spelunky 2 also introduces liquid physics, as you'll spot in the screenshot above, which are designed to create unexpected new obstacles for players to deal with on their subterranean adventures, with the destructible scenery and the new liquid elements combing to create the likes of impromptu - and frequently deadly - waterfalls or lava streams.
The result of all these new elements coming together, says Yu, is a game that "feels more fast-paced but also more expansive", and one that will hopefully make "the stories that emerge even more rich and personal".
Spelunky is currently scheduled to launch on PlayStation 4 and PC in 2019.