Sonic 4 Episode 2 screenshots leak from Xbox Marketplace
Plot description, online and offline co-op confirmed.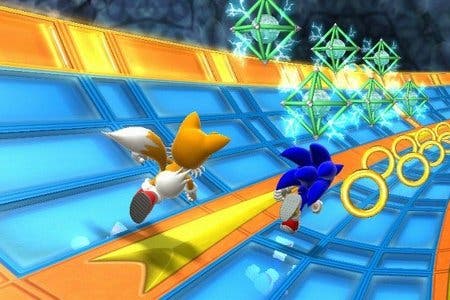 Sonic 4 Episode 2 screenshots leaked from Xbox Marketplace last night.
They were quickly taken down, but not before eagle-eyed gamers copied them for your viewing pleasure.
Alongside the screenshots was a plot description that confirmed new details on the inbound downloadable platformer.
The game has online and offline co-op with Sonic and chum Tails battling through multiple stages in gameplay designed to echo Sonic 2.
The plot description in full:
"The Sonic 4 Saga continues as Sonic reunites with Tails for all new collaborative play! Following the events of Episode I, Metal Sonic has returned to form a formidable alliance with Dr. Eggman! To face this new threat, Sonic will have to call upon an old friend to help him save the day! Joined by Tails, utilise ingenious combination moves and race across four brand new Zones, in order to put an end to their evil plans! Play alone, or with a friend locally (and online), in an evolution of Sonic 2′s collaborative gameplay! Unleash Sonic and Tails' devastating joint attacks and combination moves to fight the united force of Metal Sonic and Dr. Eggman. Episode II features an all new game engine, bringing you updated physics and an original graphical style as you race through four unique Zones and a new Special Stage."
Sega last month published a teaser trailer for the game, due out at some point this year. (Going by this latest leak, sooner rather than later.)
It launches on PlayStation Network, Xbox Live Arcade, iOS, Windows Phone and Android. An enhanced version for Android devices with Tegra 3 is in the works. Unlike Episode 1, however, Episode 2 will not release for the Wii.