Skyrim expansion Dawnguard out now on Xbox 360
UPDATE: How to access the new content.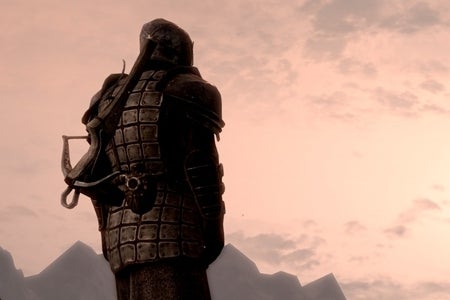 UPDATE 2: Bethesda has issued a note explaining how to access the Dawnguard content, and confirmed that player characters do not have to be level 10 or higher to enjoy it.
"Once Dawnguard is installed, if you're level 10 or higher you'll hear rumors about the Dawnguard from guards in major cities," Bethesda explained. "You may also be approached by a courier who will give you a note about the Dawnguard.
"Otherwise, if your character is below level 10 or you wish to find the Dawnguard on your own, you can seek out the Dawnguard headquarters roughly east/southeast of Riften. It can be reached by a small cave through the mountains."
UPDATE 1: The Dawnguard expansion for Skyrim is out now on Xbox 360. It costs 1600 Microsoft Points and measures 581.70MB.
You can queue Dawnguard for download from the Xbox.com website. No pressure.
ORIGINAL STORY: The Elder Scrolls 5: Skyrim's first expansion pack Dawnguard is coming out tomorrow on Xbox 360 for 1600 Microsoft Points, developer Bethesda has announced.
Those with French, Italian, German and Spanish copies of the game won't receive the add-on until mid-July. They will however get the recent version 1.6 update adding mounted combat and Kinect support today.
There's still no word on a Dawnguard release date for the PC and PS3 versions of Skyrim, though we've reached Bethesda for comment and will update as we hear back.
Dawnguard will allow players to go down the path of becoming a Vampire Lord or join the Dawnguard, a band of vampire hunters.
Being a Vampire Lord comes with all sorts of nifty perks like being able to sprout wings and hover, or raise the dead. The catch is that they take damage during the day.
Vampire Hunters, on the other hand, get cool crossbows and can summon trolls to fight for them, but alas, no flying or bat transformations. Boo!
The expansion promises 10 to 20 hours of gameplay.
Bertie went hands-on with it earlier this month at E3. Check out his impressions in our Dawnguard preview.