Skullgirls dev's gorgeous hand-drawn action platformer Indivisible out in October
On PS4, Xbox One, and PC.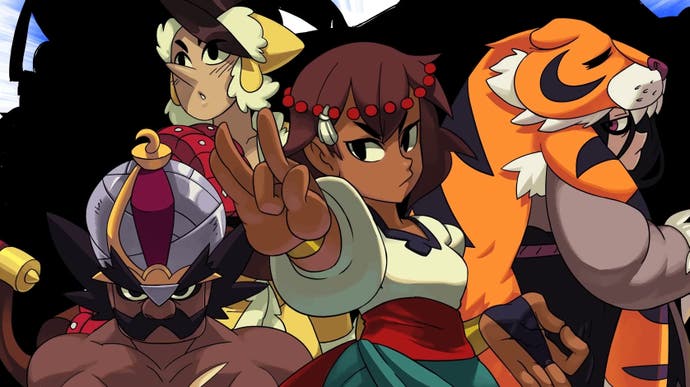 Lab Zero Games, the studio behind well-regarded fighter Skullgirls, is bringing its strikingly designed action-RPG platformer Indivisible to Xbox One, PlayStation 4, PC on 8th October.
Indivisible tells the story of Ajna, a "fearless girl with a rebellious streak", whose life is thrown into disarray when her small rural town is attacked and a mysterious power awakens within her. That power enables Ajna to absorb and manifest other characters, known as Incarnations, who grant Ajna new weapons and abilities, and can be summoned into battle when needed.
Lab Zero promises over 20 playable characters, and each brings its own own story and personality to the adventure as players explore the game's expansive fantasy world. Indivisible's website provides an introduction to some of these heroes, including an armour-clad warrior equipped with a mystical motorbike, a young orphan and her giant bird friend, a reclusive shamaness, the Queen of Pirates, and my personal favourite, a dog whose bio simply reads, "Lanshi is a very good boy... but was he always?".
Indivisible was crowdfunded to the tune of more than $2m USD back in 2015 (publisher 505 Games put up an additional $2m), and it's not hard to see why so many were compelled to reach into their pockets. Alongside Indivisible's intriguing premise, it's a beautiful game, blending sumptuously crafted 3D backdrops with hand-drawn 2D animated characters and enemies. It should sound top-notch too, with music by Secret of Mana composer Hiroki Kikuta.
Indivisible will be available in both digital and physical forms when it comes to PS4, Xbox One, and Steam in October, and should cost around £34.99. North America will receive the physical edition alongside the digital release on 8th October, and everywhere else will get it a few days later, on 11th October. 505 has also previously confirmed that a Switch version is in the works, although there's currently no news on when that might finally see the light of day.