Indivisible picks up steam on Indiegogo, gets an extension
UPDATE: Goal reached with three days left.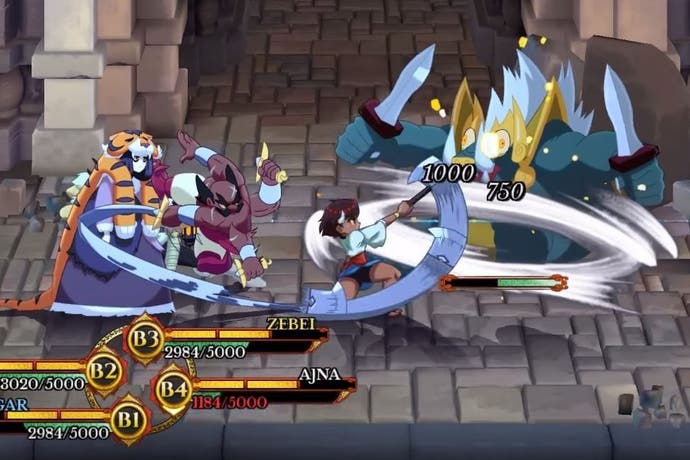 UPDATE 02/12/2015 10.50pm: Indivisible has achieved its $1.5m crowdfunding goal.
The current tally comes to $1,595,461 across 25,974 backers. There are still 57 hours left in the campaign too (it closes at 8am UK time Saturday). If it reaches $1.65m the developer will add another hour of music by Hiroki Kikuta.
"We are truly humbled by your support for the project and we're incredibly excited that we will be able to see it become a reality," said 505 Games president Ian Howe in an Indiegogo update. "We have been talking to Peter and the team at Lab Zero for a long time trying to find a project to work on together and through your incredible contributions, support and energy we are now able to make that happen.
"I know sometimes even the smallest contributions have to be carefully considered and I also know that some of you have really gone above and beyond in the levels of support you've given. We do not take this for granted and we will do everything possible to make sure that we repay that with a great game."
ORIGINAL STORY 12/11/2015 5pm: Indivisible, the upcoming action-RPG by Skullgirls developer Lab Zero Games, has received a 20-day extension on its Indiegogo campaign after acquiring nearly a million dollars.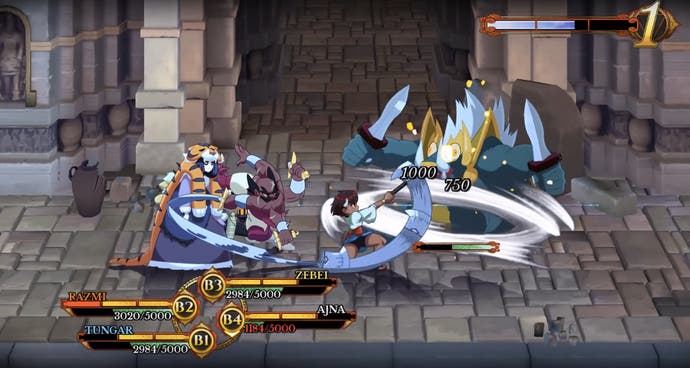 As previously discussed, Indivisible will not get made if Lab Zero doesn't meet its goal. Yet the campaign saw a major spike in interest this past week as the developer released the prototype on PS4 in both North America and now Europe. This is the first time we've seen such an early game prototype publicly released on PSN (or any mainstream console, for that matter.)
Lab Zero previously explained that while publisher 505 Games will offer $2m to develop Indivisible, the developer will only receive that money if it can raise the remaining $1.5m on its own as the full game is expected to cost upwards of $3.5m.
"Getting this extension was a hard-won battle, but we need to keep up the pace if we're going to get Indivisible made," said Lab Zero's Earl Gertwagen in an Indiegogo update. "There won't be any more extensions beyond this one."
Currently, the Indivisible Indiegogo is at $946,309 towards its $1.5m goal. Only last week it was at around $630k, so interest is definitely on the rise. Indivisible now has 23 days left to make the remaining $554k.