Single-screen two-player platformer Penarium is due next week
Will have a free demo on PS4, Xbox One and Steam.
Single-screen retro platformer Penarium is coming to PS4 and Steam on 22nd September with the Xbox One version following on the 23rd.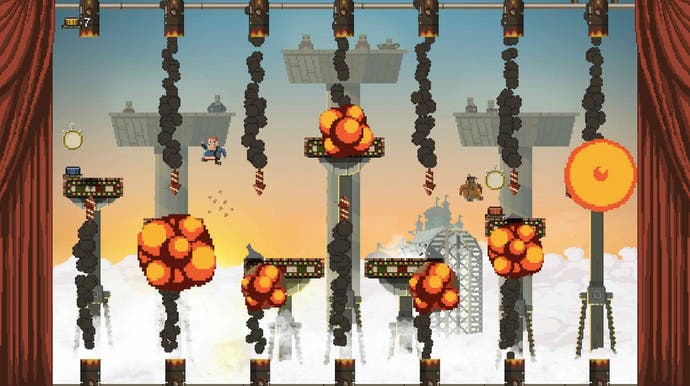 The debut effort of Dutch developer Self Made Miracle, Penarium is being published by Worms studio Team 17. It will feature 30 single-player levels as well as two-player competitive and cooperative modes as you try to survive various challenges in a sadistic circus.
The campaign mode will cover 30 challenges across three arenas, while there will be an endless Arcade Mode available as well wherein you try to rack up the highest score on the leaderboards.
"With Penarium, we strived to create a challenging single-screen platformer with super-tight, pick-up-and-play controls that provide a lot of depth and variation through various single and multiplayer game modes," said producer and designer Rick van Ginkel on the PlayStation Blog.
I played a few rounds of competitive Penarium at a GDC event and had a rather swell go of it. I didn't have enough time to delve into how it stacks up against the genre greats like Towerfall and Spelunky, but I will say it left me entertained for 10 minutes and seemed to scratch the same itch as other single-screen platforming affairs like Woah Dave!
Penarium will launch with a free trial and the full game will cost a mere £6.99 / €8.99. Take a gander at how it looks in action in the launch trailer below: