Sine Mora coming to PlayStation Network
Furious Grasshopper shoot 'em up throws off XBLA confines.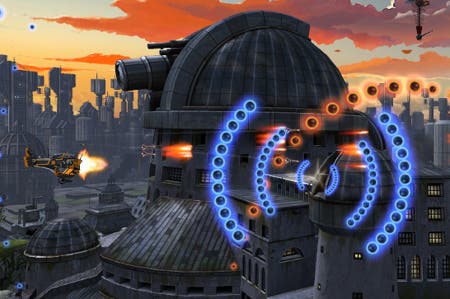 Acclaimed side-scrolling shoot 'em up Sine Mora is coming to PlayStation Network, co-developer Digital Reality has announced.
Alas, there's no word on a release date yet.
The game, built in conjunction with Suda51's Grasshopper Manufacture outfit, launched back in March on Xbox Live Arcade. As announced earlier this month, it's also on its way to Vita.
"After having an extremely successful launch on Xbox Live Arcade and revealing the Vita version at E3 to much appraise, we're as excited as ever to bring the experience to yet another platform," commented Digital Reality exec Balázs Horváth.
"More important than anything, we created something we love, and we know Sine Mora be loved yet again on PlayStation 3."
Indeed it will be - it's a cracker.
"Clearly not one for casual players, this is a heartfelt love letter to one of gaming's thoroughbred genres and one that fans of the right temperament should experience without delay," read Eurogamer's 9/10 Sine Mora review.