Sega cracks down on Puyo Puyo Tetris streams
UPDATE: But only for the Japanese version.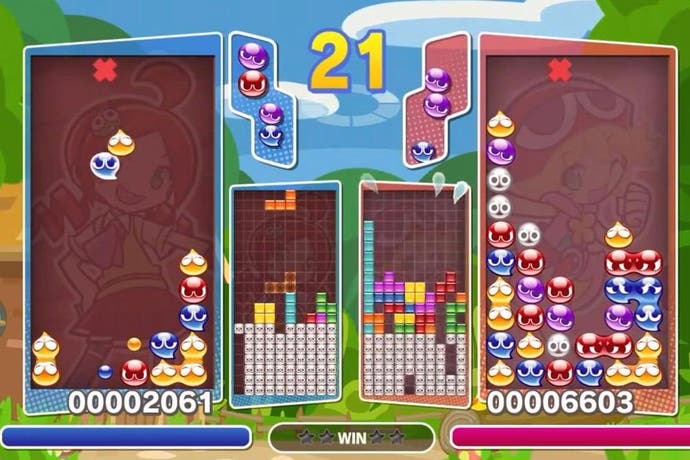 UPDATE 06/04/2017 9.22pm: False alarm, everybody. As it turns out, these restrictions only apply to the Japanese versions of the game, not the English language release.
Sega producer Sam Mullen clarified the situation on NeoGAF.
"For the English version of Puyo Puyo Tetris, there are no scenes blocked, and nothing that you can't stream from either version of the game," he wrote, referring to both the Switch and PS4 releases.
"All we ask is that you share respectfully and responsibly, and please respect the rights of Sega and its partners."
Still, the restrictions are worth keeping in mind for those of you who purchased the Japanese version of Puyo Puyo Tetris in order to play it early.
ORIGINAL STORY 06/04/2017 9.05pm: Earlier this week Atlus announced some bizarrely restrictive rules for Persona 5 streams and now Sega is following suit with its own draconian approach to videos of Puyo Puyo Tetris.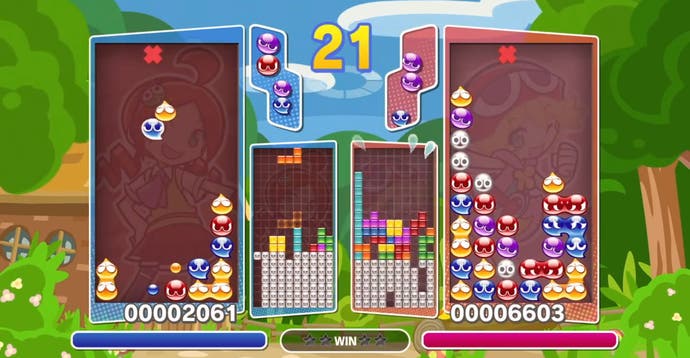 As noted on Sega's Japanese website, Puyo Puyo Tetris videos can't be uploaded to any site in which the poster can receive monetary compensation. This includes YouTube, since the video streaming service has ads.
"If it is recognized that there is a purpose to indirectly benefit by using the animation, even if it is not for profit purpose directly, it is considered for profit," Sega noted (translation via Google.)
That said, people are allowed to upload Puyo Puyo Tetris videos to their "personal and non-profit blog."
Cracking down on Puyo Puyo Tetris streams seems like a strange approach for a couple of reasons. For one, the game has been out in Japan since 2014 on PS4, Xbox One, Wii U, PS3, Vita and 3DS, so there have been countless streams available for ages. As of now, there's no shortage of gameplay videos of the Japanese version on YouTube.
Secondly, Puyo Puyo Tetris doesn't seem like the most story-heavy of games, so spoilers aren't much of a concern.
Still, Sega doesn't want folks to be spoiled on the game before Puyo Puyo Tetris reaches European shores on 28th April (or 25th April in North America) on PS4 and Switch.