The Disney Infinity Doctor Strange figure the world will never get
More than an illusion.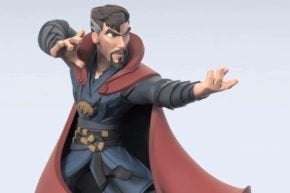 This year, Disney Infinity would have gained itself a pretty cool-looking Doctor Strange figurine.
It won't now, of course, because Disney canned its toys-to-life franchise last month when it decided it wasn't making quite enough money.
Disney Infinity's demise took out developer Avalanche Software, too. Around 300 jobs were lost.
A detailed report at the time revealed mismanagement and inflated sales expectations behind the scenes at Disney.
Two years worth of unannounced content was scrapped - including this Doctor Strange figure, apparently, made in the handsome likeness of Benedict Cumberbatch.
It's the first we've heard that Doctor Strange would have been included. Previously, Cars 3, Star Wars Episode 8, Pirates of the Caribbean: Dead Men Tell No Tales, Coco, Guardians of the Galaxy 2 and Thor: Ragnarok sets had been touted.
Disney Infinity's last release, Finding Dory, is available now.