Sea of Thieves' sizeable Halloween update lets you change the colour of your underpants
Plus spooky forts! Banjo! Arena sloops! More!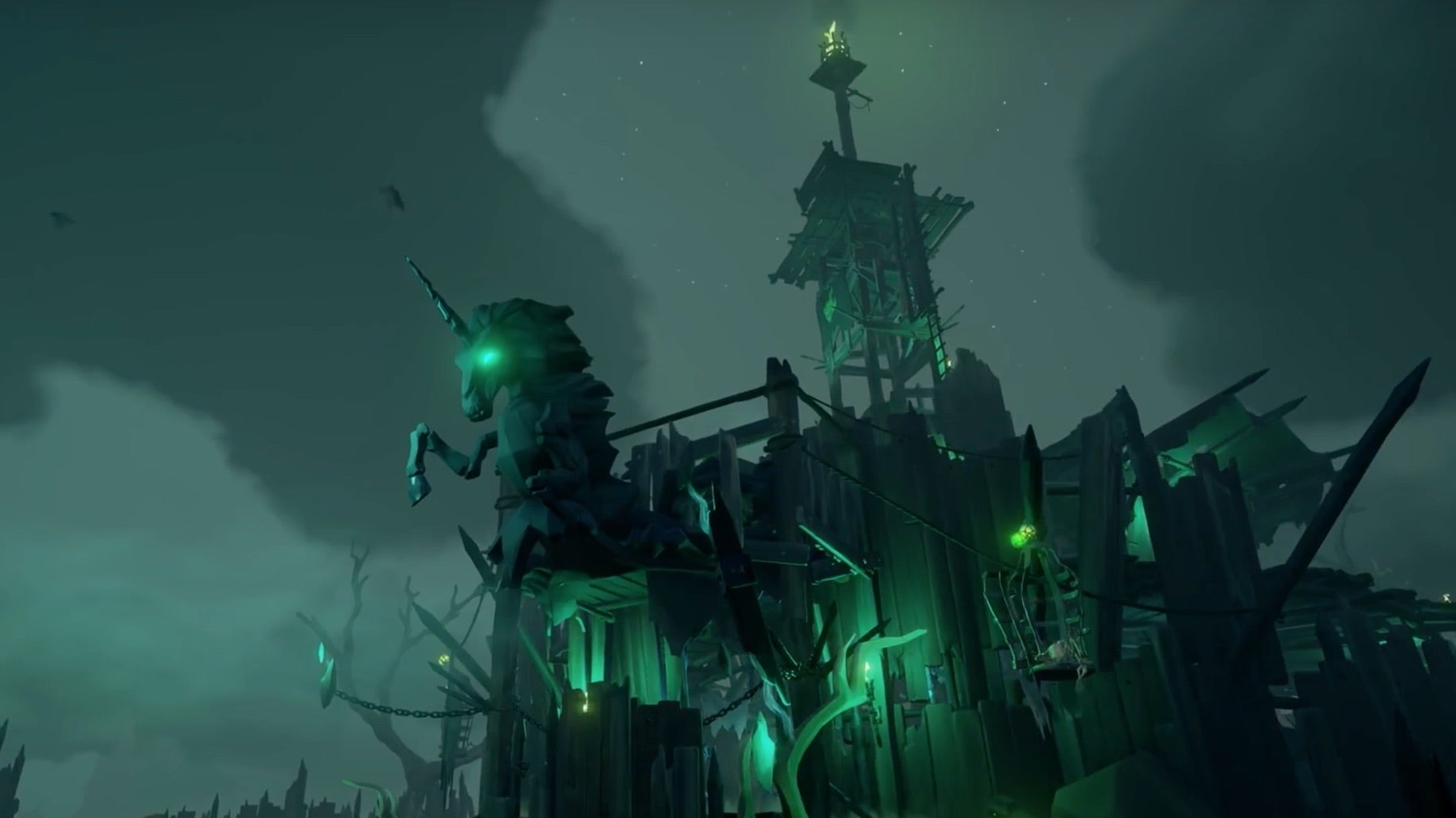 Sea of Thieves is getting into the spirit of the spooky season today, with the advent of its new Fort of the Damned update - and it's a big un, introducing the likes of an ultra-hard skeleton fort, a much-requested banjo to twang, new Arena mode options, and more. Oh, and especially particular pirates can finally change the colour of their undergarments too.
Starting with the headline feature of Sea of Thieves' latest update, what was once Old Boot Fort in the Ancient Isles has now been transformed into the sinister, fog-shrouded Fort of the Damned. This ominous construct is the site of a particularly challenging skeleton fort battle, but only for those players that come prepared to perform the correct ritual.
By collecting all six coloured lights from the Flame of Fate (each one accessed by dying a particular death) and deploying them at the fortress with a Relic Skull, crews can face an army of special Shadow Skeletons in order to claim great rewards.
These Shadow of Fate Skeletons only become vulnerable when light from a matching lantern colour shines upon them, all of which strongly suggests that the Fort of the Damned is best tackled with six players, and, thus, multiple allied crews.
Relic Skulls can be gathered by completing missions acquired from Duke at any outpost tavern, and, notably, Rare has made a few tweaks to ensure that collecting the notoriously tricky white Flame of Fate is easier. It's now possible to goad lightning into striking you straight to the Ferry of the Damned by raising your sword while in a storm.
Notably, the Fort of the Damned appears to be a permanent addition to the seas and enables players to unlock a rather snazzy cosmetics set inspired by the Ferryman of the Damned - consisting of face paint, a jacket, and a lantern - by defeating the fortress multiple times.
That's far from the being the end of stuff within Sea of Thieves' latest update, however; alongside the aforementioned multi-hued undergarments, it's now possible for two-player sloops to compete in the game's PvP Arena mode (previously it was only open to four-player galleons), emergent Skeleton Captain encounters on islands have now been introduced, and there's a new musical instrument - arriving in the form of the much-requested banjo, complete with a large variety of matching skins.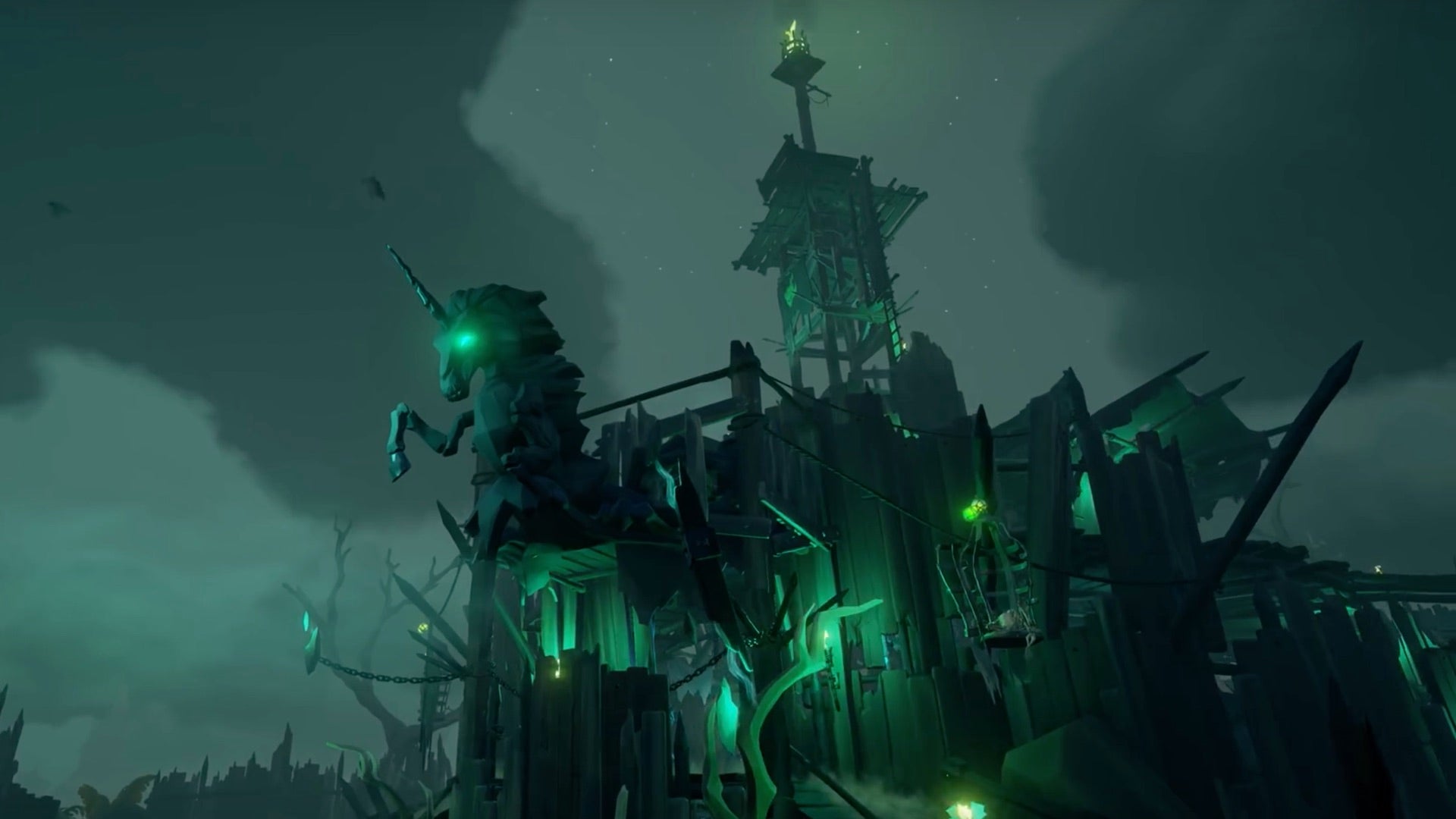 And on the subject of cosmetics, Sea of Thieves has received an influx of new shirts, skirts, dresses, weapon skins, and accessories - ranging from permanent additions to limited-time variants in Duke's Black Market - and there's also special new two-tone hair dye for Pirate Legends, only available from the Legendary Hideout.
Lastly for the headline additions are a number of new items exclusive to Sea of Thieves' real-money store, AKA the Pirate Emporium, including appropriately spooky skeleton skins for pets, new emotes, and a premium ship skin inspired by Killer Instinct.
All of the above arrives alongside a considerable number of tweaks and changes, ranging from increased Reaper's Chest payouts to improved audio-visual effects for Tall Tales' current final chapter. A full list of improvements and alterations can be found in Rare's latest patch notes.