Sea of Thieves' latest update expands the divisive Merchant Alliance with new Cargo Runs
Plus word on the upcoming Festival of the Damned.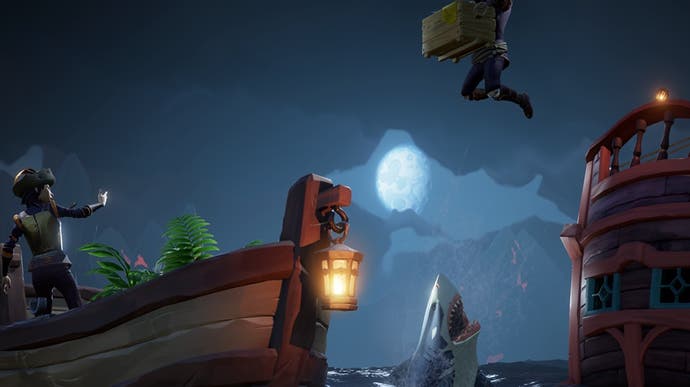 Rare's piratical multiplayer sandbox game Sea of Thieves has now reached the midpoint of its current Forsaken Shores campaign, signalling the arrival of a new addition to the game's divisive Merchant Alliance faction: Cargo Runs.
Cargo Runs are designed to introduce a bit more variety to the Merchant Alliance, expanding on the faction's existing animal transportation missions (which I've personally always liked, given that they're both relaxing in their subdued rhythms and lucrative as hell) with a selection of delivery quests themed around some particularly finicky items.
Accept a Cargo Run via an outpost's Merchant Alliance representative and you'll be asked to collect a number of crates from another NPC on the island. Once gathered, the quest is removed from your list but remains active, meaning that you can stack up multiple Cargo Runs, or do them in tandem with other quests - something that players have long hoped would be implemented for the original Merchant Alliance animal runs.
At present, there are three possible Cargo Run items - a Crate of Luxurious Cloth, a Crate of Plants, and a Crate of Rum Bottles - and each has certain requirements to follow in order to get the maximum reward when delivered to NPCs now scattered across islands (which, pleasing, also add a bit more life to the world). Cloth, for instance, must be kept dry, plants must be kept wet, and rum must be carried with upmost care to avoid breakages.
It looks like you'll get roughly 350 gold for each item successfully delivered in perfect condition (so around 2,500 gold per quest) and there are tougher, but more rewarding, variants to be found over in the volcano-strewn Devil's Roar biome.
Elsewhere, today's update brings a host of bug fixes and quality of life improvements to Sea of Thieves - including considerably better rewards for defeating PvE skeleton ships and adjustments to the Kraken lantern so that it no longer shines brighter than the centre of the sun - as exhaustively outlined in the latest patch notes.
In an accompanying video (above), Sea of Thieves executive producer Joe Neate confirmed that the first Bilge Rat Adventure update to follow Forsaken Shores (as originally revealed during a panel at the recent New York Comic-Con) will be titled The Festival of the Damned. It's themed around a celebration of the Ferryman, whose ship acts as a portal back to the land of the living for fallen players, and is evidently intended to function as the game's Hallowe'en-ish event.
At Comic-Con, it was suggested that a Well of Souls will be added to the Ferry of the Damned during the update, which changes colour depending on how arriving players have died. The flame can then be used to adjust the colour of lanterns on player ships - for a touch of seasonal pizzaz and to accomplish activities around the world. More details will be shared soon.
Additionally, with the first wave of previously announced Sea of Thieves expansions (The Hungering Deep, Cursed Sails, and Forsaken Shores) now released, Neate says that Rare will begin sharing its future content plans - covering the remainder of this year and the next - in a developer video in the coming weeks.