Sea of Thieves is giving away the Obsidian Cannon cosmetic for Talk Like a Pirate Day
One step closer to completing the set.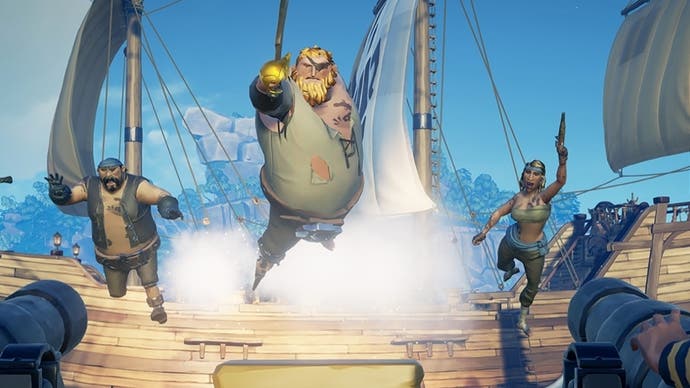 Sea of Thieves, a game about pirates, is giving a little something away in celebration of Talk Like a Pirate Day - which, should it not already be in your diary for some inexplicable reason, takes place this Thursday, 19th September.
Specifically, developer Rare is offering up another piece of Sea of Thieves' Obsidian cosmetics set, which has been doled out in piecemeal fashion since the game launched in March last year. This time, pirates are being given the chance to secure the Obsidian ship cannon, nudging the Obsidian Ship Livery given away as part of July's Twitch Rivals event just that little bit closer toward completion. That just leaves the capstan and wheel to go.
In order to secure the Obsidian Cannon, Rare is once again pointing players in the direction of Twitch. This means you'll need to link your Microsoft account to Twitch before you do anything else, and instructions can be found on the Sea of Thieves website.
With that done, all that stands between you and your prize is the requirement to watch half an hour of any streamer participating in Rare's event, which runs from 10am BST on September 19th until 10am BST on September 20th. Or just have Twitch running in an inactive window with the sound off if watching other people play video games isn't your bag.
Sea of Thieves is currently in the throes of its most recent limited-time event, Smuggler's Fortune, which, alongside the usual array of quests and cosmetics, brings some intriguing twists - and sees the return of a familiar scoundrel - to the game's nifty, steadily escalating narrative. It also introduces pets as part of Sea of Thieves' new micro-transaction store.