Sea of Thieves is currently half price ahead of this month's massive Anniversary Update
Sail now on.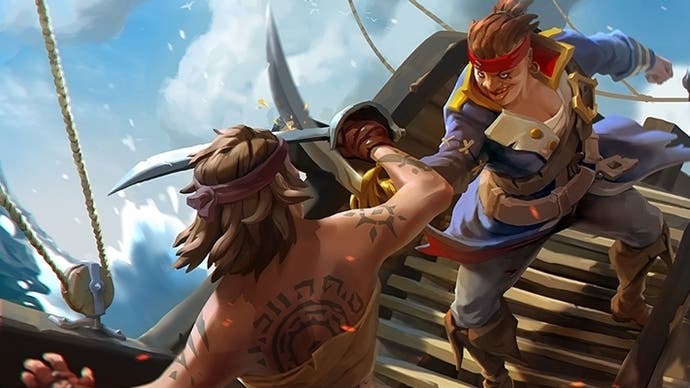 Rare's multiplayer pirate extravaganza Sea of Thieves is currently enjoying a discount of 50% on Xbox One and PC, ahead of its massive, game-changing Anniversary Update, due at the end of the month.
Sea of Thieves' Anniversary Update is an absolute belter, introducing, among many other things, a brilliantly raucous, quick-fire competitive mode known as The Arena. This is completely standalone to Sea of Thieves' existing mode, which will be renamed Adventure Mode come the update's arrival on April 30th, meaning combative sorts have a new place to let off steam.
Adventure Mode, meanwhile, will receive Sea of Thieves' first hand-crafted story campaign as part of the update - a sizeable offering spanning nine chapters, in which fearless crews must roam the seas in search of a mysterious island known as the Shores of Gold.
Guided quests have been high on players' wish lists since launch, and Rare's debut offering looks great from what I've played so far - fully-voiced and orchestrated, with a host of bespoke gameplay elements, including star-navigating, Goonies-style clue hunting, and perilous Indiana Jones adventuring, with all the ancient artefacts and deadly traps you'd hope for.
And then there are additions like the new harpoon guns and overhauled ship damage system (enabling players to fell masts, shatter wheels, or obliterate the capstan) for more tactical assaults on enemy crews. Or the wonderfully implemented, superbly relaxing new fishing system, which combines with cooking as the basis for the new Hunter's Call Trading Company.
All of which is to say that big things are afoot for Sea of Thieves - meaning that now might be a sensible time to take advantage of Microsoft's week-long discount, if you've been thinking of permanently adding the game to your collection. Currently, it'll cost you £24.99 via the Xbox Store or Windows Store instead of the usual £49.99.