Sea of Thieves' first update of 2023 brings pet rocks, new limited-time adventure
Plus PvP matchmaking improvements.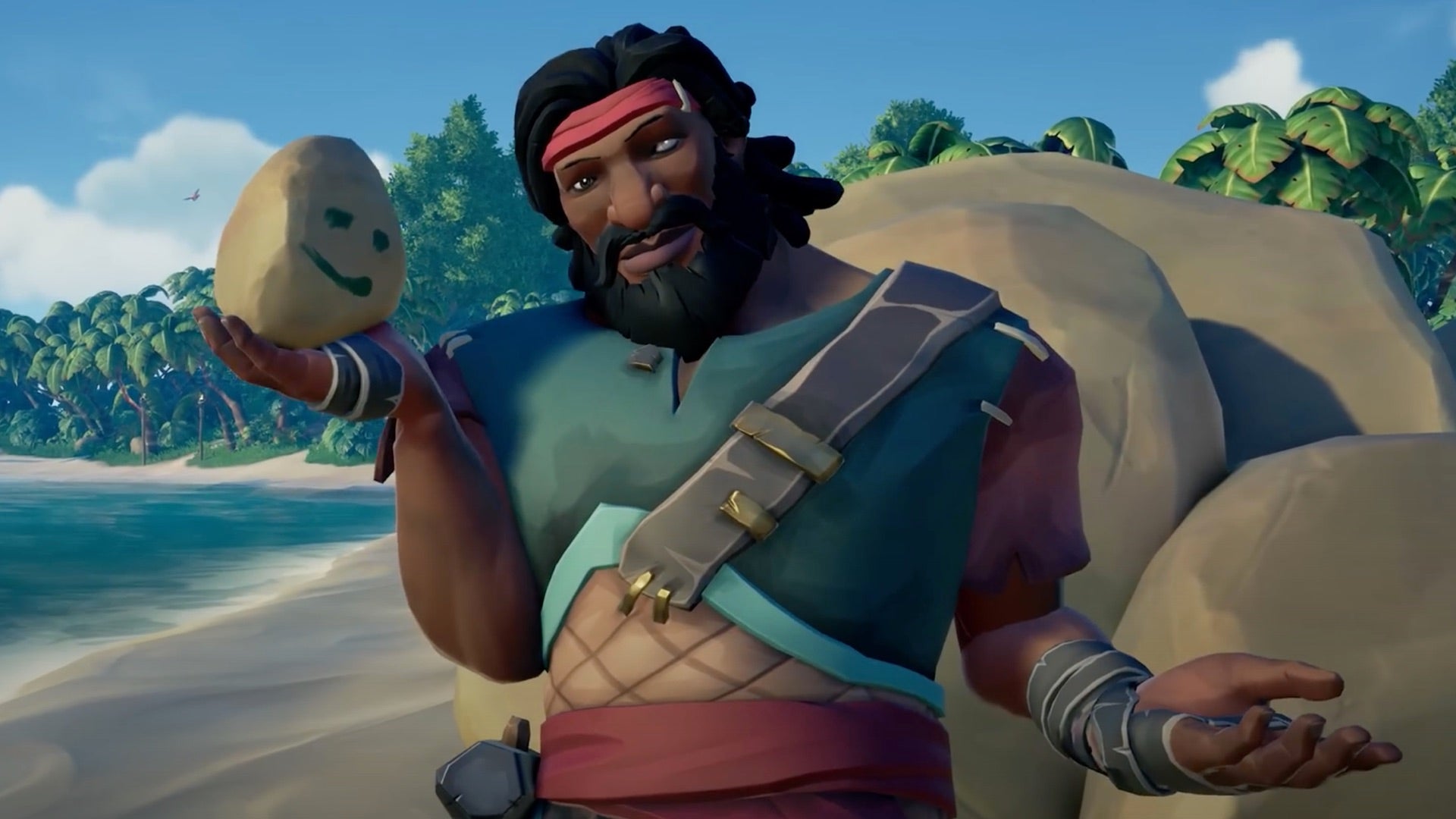 Sea of Thieves is gearing up for a 2023 that'll see it celebrating five years of pirate adventure out on the waves, but before all that, it's hoisting anchor and setting sail with a mid-season update bringing pet rocks, a new limited-time adventure, and more.
Starting with that "and more", a major chunk of Sea of Thieves' new update - which arrives tomorrow, 19th January - is dedicated to improving the matchmaking system introduced as part of the game's new on-demand PvP functionality at the end of last year.
Eye-wateringly long wait times have been a major complaint since the feature's arrival in Season 8, and Rare is looking to remedy the issue by, firstly, allowing same-faction battles when matchmaking is taking too long. It's also introducing what it calls "cross-stamp migration" to make it easier for players to be paired. Some additional information on the changes can be found in a dev blog from December.
Other PvP improvements coming tomorrow will see players getting increased compensation when their ship sinks after losing a battle, plus increased compensation for crews that sail as Servants of the Flame while flying the Reaper's Bones flag. Additionally, players that sink by sailing out of bounds will also get compensation rewards.
Possible arenas for on-demand PvP battles have now been increased from six to 50 in order to add more variation (and to make it easier to get to outposts and cash-in rewards after a victory), and Rare is making a number of changes to thwart several nefarious exploits.
Firstly, to discourage situations where two crews have teamed up specifically to dominate single invading vessels, the game will no longer offer rewards and Hour Glass of Fate value to those players that sink somebody else's invading ship. Rare has also fixed a bug that allowed chests and crates to act as shields on ships.
Away from PvP, tomorrow's update brings Sea of Thieves' latest limited-time adventure, The Secret Wilds. Picking up immediately after the events of last year's The Rogue's Legacy, players will join Tasha in her quest to stop the skeletal curse that's threatening to consume her. This'll take them to a world beyond our own to discover the secrets of Captain Briggsy's past. The adventure will be available to play between tomorrow, 19th January, and 2nd February.
Elsewhere in the update, the premium Pirate Emporium store gets some new stock, including the Labyrinth Looter ship set, weapon set, and costume, all inspired by classic tales of the Minotaur. Players will also be able to purchase their very own pet rocks/pocket pebbles - although this is, alas, just one of Rare's slightly disappointing emote-based "pets", rather than a proper autonomous pet like the cats, dogs, and birds that accompany your travels.
Sea of Thieves' eighth season is currently expected to wrap up in March, just in time for the game's fifth anniversary. Rare is yet to reveal what's next, but it previously teased "new social options for crews" as part of Season 9 before it was delayed to this year.