Sea of Thieves' Fate of the Damned update adds spooky voyages, new skeletal pets, more
And there's finally an in-game events tab!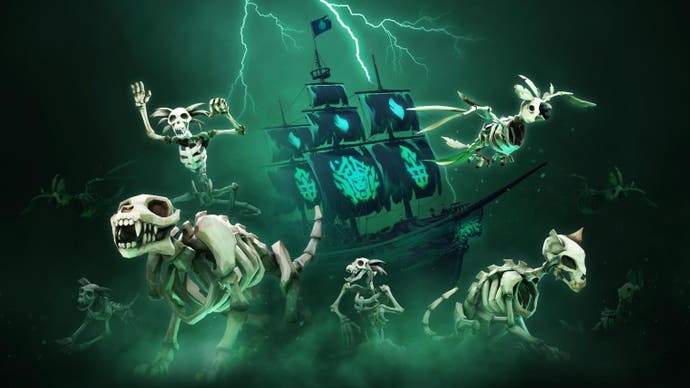 Sea of Thieves is celebrating the spooky season in its newly released Fate of the Damned update, and while it introduces a range of suitably sinister new voyages and cosmetics, it's the very long-awaited arrival of an in-game events tab that's filled me with particular glee.
As part of the new update, those ready for some spirited Halloween adventure can collect new Fate of the Damned voyages from Larinna outside any outpost. These will guide players across the ocean to learn the fates of her missing Bilge Rates crew. There's a different voyage each week for the duration of the Fate of the Damned event, and a selection of related rewards.
Completing any Fate of the Damned voyage will, for instance, unlock the sinister Face of Fear cosmetic item, and new weekly seasonal Challenges, alongside the event-long Slayer of Fate Challenge, bring their own rewards. The latter awards the Soulflame Lantern, and a selection of Soulflame Weapons await those that manage to complete Sea of Thieves' weekly seasonal challenges. Additionally, Pirate Legends that manage to polish off the whole lot can unlock the Soulflame Captain and Crew costumes from Larinna.
There's a lot more going on over the next few weeks, however, including the imminent Ghoul & Glory Weekend, offering double gold and reputation, plus the return of Fort Nights on Fridays, which bring boosted Stronghold rewards.
The best news of all though (as far as I'm concerned, at least), is that Sea of Thieves' full calendar of upcoming events, and a complete record of a player's current progress in each, can now be found directly in-game, via the new Events tab. No longer is a spur of the moment hop to the Sea of Thieves website required to keep track of everything going on in the world.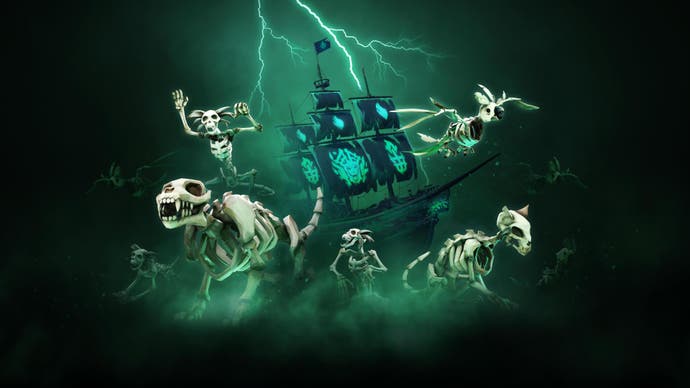 Elsewhere in today's Fate of the Damned update, there are new Aristrocrat and Wild Rose items available from Larinna, while premium Pirate Emporium additions include the suitably spooky new Soulflame Ship Collection, plus skeletal cat and dog pets. The latter complement last year's skeletal bird and monkey pets, which also return to the store for Halloween.
A full breakdown of everything featured in Sea of Thieves' Fate of the Damned update, including a free new Lantern Dance emote, can be found in Rare's latest patch notes.