Road Redemption slated for PC this summer
UPDATE: Wii U version still happening, albeit after PS4 and Xbox One ports.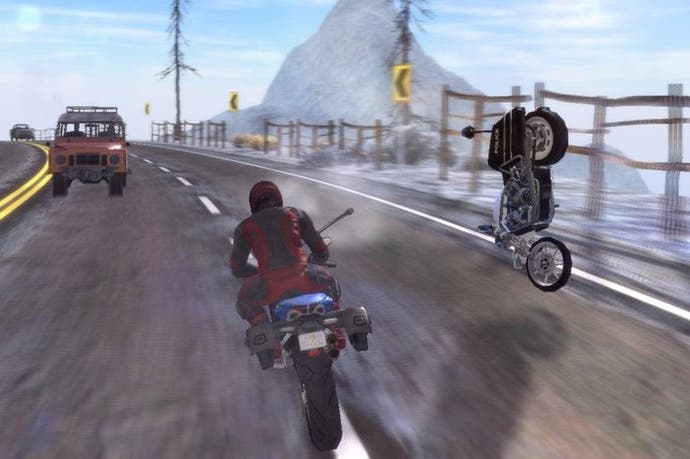 UPDATE 01/04/2016 10.56pm: DarkSeas Games has clarified to Eurogamer that the Wii U version of Road Redemption is still in development and it will include GamePad support for local multiplayer without splitscreen. What the developer meant before was merely that it would take longer to port Road Redemption to Nintendo's console than it will on PS4 or Xbox One.
"What yesterday's communication meant to do was shed a little more light on our development process.," explained DarkSeas' Jason Tate. "It's easier to optimise our PC version of Road Redemption for Xbox One and PS4. We benefit from each of those optimisations as we make further optimisations for Wii U. Our goal is to for Wii U owners to have the exact same experience as their PS4 and Xbox One brethren."
"That is all we were trying to say, and I apologise if it came off as unclear, curt or offensive to Wii U owners."
"We are still actively pursuing Wii U development, and we're very excited to take advantage of the second screen for a splitscreen-free local multiplayer experience."
ORIGINAL STORY 01/04/2016 7.07pm: Progress on motorcycle action game Road Redemption has been quiet for some time, leading many to ponder if the crowdfunded Steam Early Access game had been abandoned, but developer DarkSeas Games has issued a Kickstarter update assuring everyone that this is not the case. In fact, it's just added a couple more developers to the project and is expecting the game to come out of Early Access this summer.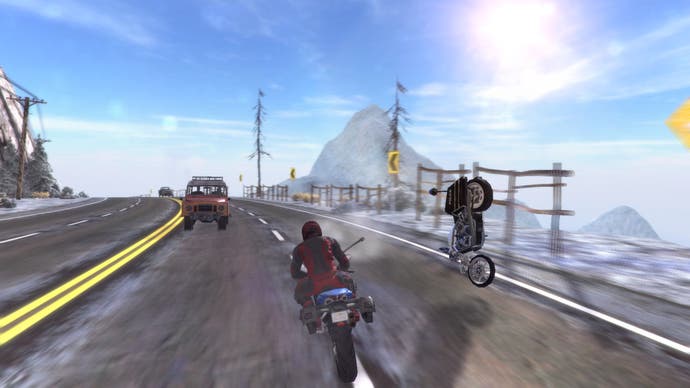 "As we march toward that goal, we'll be releasing several new builds on Steam Early Access to show everyone our progress. This will include a beta version of online multiplayer," DarkSeas stated. "For console fans, please know that we are also working toward releases on Xbox One and PS4."
You may have noticed that Wii U is not mentioned there despite it being one of the originally targeted platforms when the crowdfunding campaign went up. Unfortunately, DarkSeas hit a snag in developing this version.
"We have definitely not ruled out a Wii U release, however due to the current complexity of the game and the weak hardware of the Wii U, it will take a tremendous amount of optimisation to make it happen. This would have to happen after PS4 and Xbox One versions are complete," the developer said in a comment when asked if the Wii U version was even still happening.
"Anyone who backed for Wii U can definitely choose to receive a PS4 or Xbox One copy instead when those versions become available (or Steam version now)," DarkSeas said of this hurdle.
What's unclear is whether those who backed the game specifically for the Wii U version will be eligible for refunds. Chances are there aren't many who own Wii Us, but not any of the other targeted platforms, but even a small subset of its 4409 backers could add up. It's not clear how much of the crowdfunded $173,803 budget has been burned through at this juncture.
We've requested comment from DarkSeas on how it's planning to deal with such requests as there's already a bit of backlash on the Kickstarter update comments.
Eurogamer contributor Dan Whitehead took a look at Road Redemption's Early Access build back in 2014 and found it rough around the edges but showing promise. It sounds as if DarkSeas still has a ways to go as its list of proposed updates to the game is as follows:
Improved bike driving and physics
Revamped enemy AI
Entirely new user interface
New weapon upgrade system
Unlockable bikes and riders
Better missions with greater variety
Story Integration
Updated levels with more routes to drive
Improved visuals of enemies and vehicles
Several new enemy types including challenging late level enemies
Boss fights
Splitscreen co-op improvements
Online multiplayer