Rise of the Tomb Raider's mansion-exploration episode Blood Ties finally has VR support on PC
Mind your manors.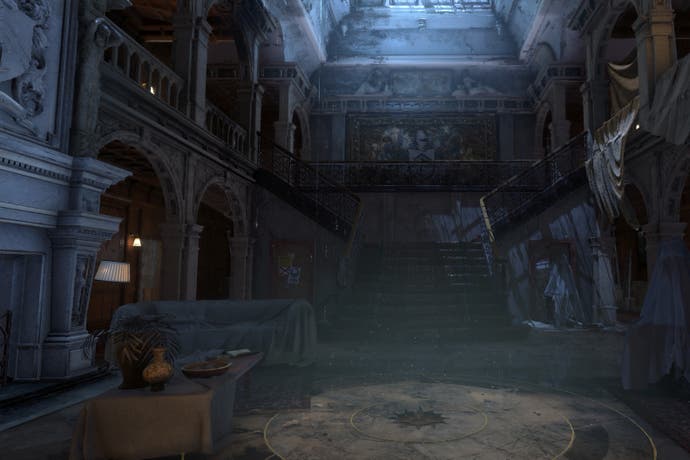 Rise of the Tomb Raider's year-old Blood Ties DLC episode, in which Lara goes a-poking around musty old Croft Manor, has finally received VR support on PC.
Blood Ties is an hour-long, story-focused single-player episode that sees Lara returning to Croft Manor following her father's death. It's a largely serene endeavour that tasks you with exploring the mansion, uncovering family secrets, and searching for evidence that will allow Lara to retain ownership of her childhood home. It also features a separate shooty zombie mode called "Lara's Nightmare" for those that demand actual bang for their buck.
Eurogamer's Christian Donlan relished the opportunity to return to Croft Manor when he explored Blood Ties last year, so perhaps you will too!
Blood Ties originally launched as part of Rise of the Tomb Raider's expanded PlayStation 4 edition, where it offered optional virtual reality support on PSVR. The episode soon made its way to other platforms under the guise of the 20 Year Celebration Pack DLC. However, VR support didn't come with it, leaving Oculus Rift and Vive owners out in the cold.
All's well that ends well though, as the saying goes; one year later, Blood Ties on PC has received SteamVR support via a free update for owners of Rise of the Tomb Raider's 20 Year Celebration edition, DLC pack, or season pass.
What's more, the update is accompanied by a bit of a sale. Rise of the Tomb Raider: 20 Year Celebration (which includes Blood Ties and the season pass) is currently half-price at £19.99 on Steam. If you have the base game already, Blood Ties is part of the 20 Year Celebration Pack, reduced to £3.99, and is also included in the £9.99 season pass.