Riot Games exec placed on leave for "abhorrent" George Floyd Facebook post
UPDATE: Now resigned.
UPDATE 12/06/20: Ron Johnson, the Riot Games executive who blamed George Floyd's death on his "criminal lifestyle" in a social media post, has now left the company.
Riot Games confirmed to Eurogamer that Johnson "is no longer employed at Riot Games", adding that the image he shared "is abhorrent and runs directly counter to our values and our belief that addressing systemic racism requires immediate societal change, something that we're committed to working toward". Riot also reaffirmed its intention to help tackle racial injustice, pointing to its recent $1m charity donation and $10m investment for "founders underrepresented in the games industry".
According to an internal memo seen by ESPN, Riot CEO Nicolo Laurent told employees he wouldn't comment on Johnson's "intentions in posting that particular message", adding that "everyone is entitled to their own political views", but highlighted the post was hurtful and undermined Riot's current messaging.
"I believe Ron exercised really poor judgement here. It resulted in a post that was harmful to many of us and our broader community. It was insensitive and in this moment, it undermines the commitment we've made to stand against all acts of injustice, racism, prejudice, and hate. It also hinders our ability to create an inclusive environment for our entire community: Rioters, players, and partners alike.
"Ron understands this and recognises that he will be ineffective as a leader at Riot going forward. As a result, he has resigned, effective today."
---
ORIGINAL STORY 11/06/20: Only a few days after Riot Games announced it would invest a significant amount of money in minority-owned game studios, attention has once again turned to problems with Riot's internal culture, as one of the company's executives has been placed on leave for downplaying the killing of George Floyd.
Ron Johnson, global head of consumer products for Riot, made a post on his personal Facebook in which he laid the blame for George Floyd's death on his "criminal lifestyle" (via Vice). Johnson posted an image of Floyd overlaid with alleged criminal convictions, and called his death "a learning opportunity for people (and your kids) to teach that this type of criminal lifestyle never results in good things happening to you or those around you".
Floyd's death and the video of a police officer kneeling on his neck for nearly nine minutes have sparked weeks of protests across America and the world as part of the Black Lives Matter movement, which aims to highlight problems with police brutality and systemic racism. The officer seen kneeling over Floyd has been charged with second-degree murder and second-degree manslaughter, while the remaining three officers have been charged with aiding and abetting the killing.
In response to the post, Riot has placed Johnson on leave and launched an investigation into the incident.
"We're aware of an offensive social media post made by a Riot employee and have launched an investigation," Riot told Vice. "We'll say firmly that the sentiment in that image is abhorrent, against our values, and directly counter to our belief that addressing systemic racism requires immediate societal change, which we detailed in the commitments we made Friday. While we don't discuss the details of our investigations or their outcomes, we're following our disciplinary process closely and have placed him on leave pending its conclusion."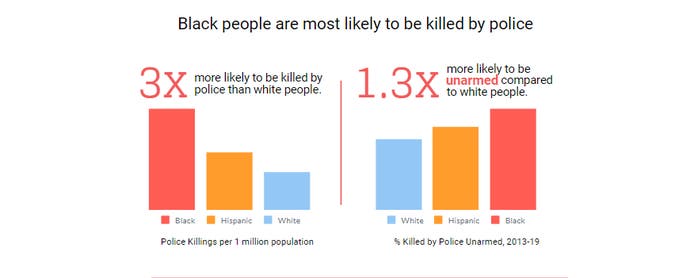 It's not a great look for Riot, which over the past year has been dealing with the fallout of a Kotaku expose on the sexism and toxicity embedded in its company culture - and for which it is still dealing with an ongoing class action lawsuit. The news also overshadows some of the positive measures Riot recently announced to address systemic racism, which included a $1m donation to The Innocence Project and the American Civil Liberties Union, and a commitment to invest $10m in "startup programs focused on founders underrepresented in the games community".