Rime developer addresses Switch performance issues
Here's reason.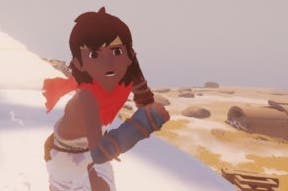 Puzzle adventure Rime launches on Switch this week - today in North America, on Friday in the UK - but there are concerns surrounding its performance on Nintendo's handheld.
Previews have shown the game to sometimes display a choppy frame-rate, and include long loading times. When I played the game back in September at EGX, both were noticeable (you can see footage of me playing the preview build below).
Last night, in a reddit AMA, Rime developer Tequila Works spoke about the technical challenges it faced when bringing the game to Switch - and the compromises it decided to make.
"Rime runs at 30fps in 720p throughout most of the game while docked," Tequila Works wrote. "This is a considerable improvement from where the game was at earlier this year when we announced the first delay.
"With Rime being very open in many locations, it's incredibly difficult to get these level segments small enough to not cause a hiccup in performance. We were faced with the choice of adding loading screens throughout the stages, rebuilding the game completely to be more closed in (undermining the product vision in the process), or living with these small hiccups to preserve what the game was intended to be. We chose the latter.
"When looking at the handheld mode, we had to make a choice between lowering the resolution, removing/replacing major parts of the level geometry, or having a bigger hit in performance. We decided to go for the former, because it allows us to maintain the integrity of the gameplay experience. All the important details are still very visible, and we've had no issues playing the game in handheld mode ourselves."
Tequila Works concluded by noting Rime did have similar issues on other platforms, albeit less pronounced.
But the fact Rime runs worst on Switch is particularly frustrating as a copy of Rime on Switch costs more than other platforms. On Amazon UK right now, a PS4 or Xbox One physical copy costs £25. On Switch, a physical copy from Amazon UK costs £32.
It's less than the expected cost of the game - which was initially set as £39.99 back in March, before the Switch port was delayed.
For digital copies, the prices are closer. On the Microsoft Store a digital download costs £23.99, while on both the PlayStation Store and Nintendo Switch eShop, it costs £29.99.
Are you picking up Rime for Switch? Is the added portability of the game worth a lower performance? Let us know.