Ridge Racer Vita only offers 3 tracks, 5 cars
30fps, post-launch DLC also confirmed.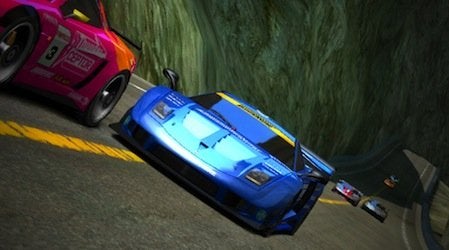 Ridge Racer Vita only has three courses and five cars to choose from, according to a pair of Japanese previews.
Impress Watch and Famitsu impressions translated by Andriasang state that the tracks available are Harborline 765, Highland Cliffs and Southbay Docks - all three of which have appeared in past games in the series. Apparently mirror versions are playable too.
Publisher Namco Bandai reportedly intends to offer post-launch DLC to beef up the offering, though its unclear whether it will be free.
More good news: the Vita launch game reportedly runs at 30fps, rather than 60, and both the boxed and digital releases will require a memory card to play.
On the bright side, it will carry a reduced ¥3980 (around £33) price tag, knocked down further to ¥2980 (around £25) for all digital purchases before 31st March. The majority of boxed Vita titles will sell for ¥4980 (around £41) in Japan.
We've contacted Namco Bandai to confirm UK plans - look out for an update soon.