Rezzed Sessions: Project Zomboid - How (Not) To Make A Game
Watch The Indie Stone's Will, Chris, Andy and Marina reflect candidly on their first year of zombie survivalism.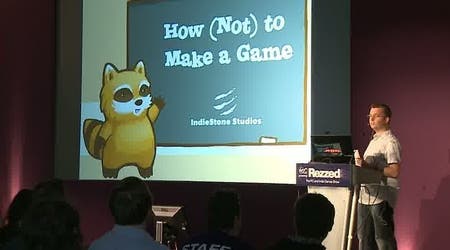 We had a lot of big names for the developer sessions at Rezzed. We've already shared Peter Molyneux's session and Dean "Rocket" Hall's DayZ talk with more to come. But, this being a PC and Indie Games Show, we thought it only fitting to open proceedings with something very down to earth.
And I'm glad we did, because The Indie Stone's presentation on How (Not) To Make A Game ended up being one of the best sessions of the entire show. Funny, honest, humble and featuring a few glimpses of the future, it's a great account of the developers' first year of zombie survivalism. It was also particularly enjoyable for those of us at Eurogamer because we're good friends with the Velvet Owl, Will Porter, who is one quarter of The Indie Stone, while Chris, Andy and Marina are all lovely as well.
Fancy a warming half hour? Then settle down with this developer session. Several people told me afterwards that it inspired them to head over to ProjectZomboid.com and pick up a copy of the game.