Rezzed 2013: Eurogamer's Game of the Show
Tea time.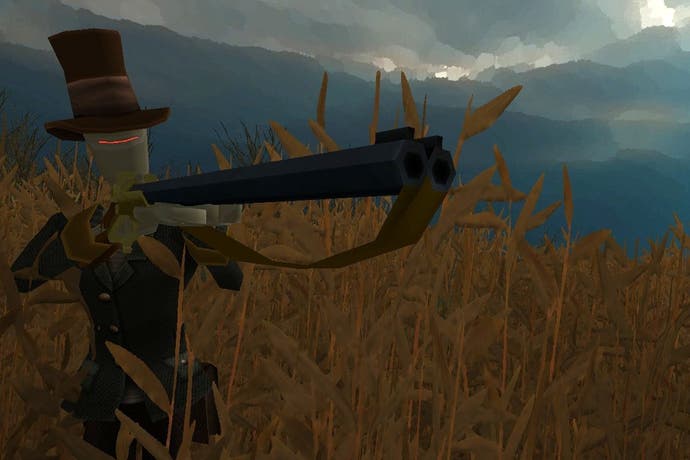 That was fun! Rezzed 2: Rezzed Harder is over, and thanks to everyone who made it to Birmingham's NEC Arena for two quite incredible days. It's a testament to the developers, organisers and those who came that Rezzed remains one of the most refreshing game shows around, even if I do say so myself.
John Walker's two panels helped set the tone for a smart show that's the antithesis of some of the corporate mindlessness witnessed at E3 a couple of weeks back, and every session that followed held to that standard. Personal highlights for me included seeing Rami and JW from Vlambeer being, well, Rami and JW from Vlambeer, stumbling through a presentation before brilliantly dissecting the process through which works of such quality as Luftrausers are created. Elsewhere, and a little slicker, was Creative Assembly's tour through what's quite possibly the grandest elephant bowling simulator ever created, Total War: Rome 2. And Chris Avellone was a star throughout the weekend, perhaps never more so than on Saturday night when he playfully referred to one of the vertically blessed members of the Eurogamer team as a "human stretch goal".
The show floor really hammered home the point that PC and indie gaming's where it's at, a dazzling medley of inventiveness. In the Leftfield Collection, Hackers was a perfectly daft creation, allowing you to mash away at a keyboard to fulfil your fantasies of being an early-80s Matthew Broderick, and I couldn't contain my laughter as I inadvertently pissed on stacks of soft porn mags in Keita Takahashi's Tenya Wanya Teens, an at times horribly accurate take on the clumsiness of adolescence. On the flipside there was the sombre exploration of Gone Home and That Dragon, Cancer, a gently devastating take on family and mortality.
All of which really hammered home how broad this medium has become, and how having one catch-all term for such diverse experiences is beginning to feel increasingly inadequate. How can a game with the grand scope of Total War: Rome 2, created by a team of hundreds, sit next to Revenge of the Sunfish 2, the answer to anyone who wondered what would happen if Sun-Ra was born in Australia and decided to spend five years crafting a strange blend of Wario Ware's mini-game madness infused with Fruit Mystery's off-kilter anarchy? I don't really know, but I'm extremely grateful that they can.
Eurogamer's Rezzed 2013 Game of the Show: Sir, You Are Being Hunted
Such breadth makes singling out any one game feel like a bit of a silly exercise, especially when there were so many different forms of excellence playable on the floor. Space Hulk's smartly tuned systems were enough to suggest the franchise is about to get its most faithful and most enjoyable video game outing in years, and Revenge of the Sunfish was for me a work of mad genius.
But there was one game that attracted the biggest crowds, and had people excitedly chatting in very much the same way Jonatan "Cactus" Söderström's Hotline Miami had us all last year. I was tempted to discount it given the involvement of Jim Rossignol, one of the founders of Eurogamer's sister site Rock, Paper, Shotgun, on the development team, but figured that doing so would be a disservice to the excitement surrounding the game. So I'm happy to say (and with kind of a clear conscience) that our Game of the Show for Rezzed 2013 was Big Robot's Sir, You Are Being Hunted.
There's something dizzying about Sir, You Are Being Hunted. It's in the gallons of tea it inspires you to imbibe as you raise a toast to its very British sci-fi vision of a dour countryside patrolled by genteel killer robots, and it's in the endless stories that look to be generated by the procedurally created play spaces. Sir, You Are Being Hunted is exactly the kind of playful, witty and inventive game that's making PCs and indies so exciting right now, so it only seems fitting that it's honoured by us this year. Congratulations, Big Robot!