Rare outlines ship customisation in the latest Sea of Thieves development video
Sail now on.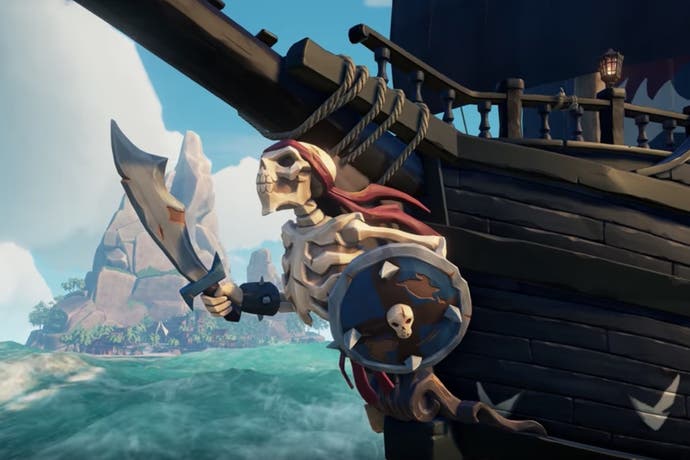 As Sea of Thieves' draws ever closer to release on March 20th, Rare is steadily filling in the remaining blanks regarding the features that wannabe pirates can expect to see at launch. Latest on its list are further details of customisation, both of the personal and ship variety.
Sea of Thieves' "horizontal" progression system has, of course, been known for a while - with the game's broader pull coming through the acquisition of new clothing and weapon cosmetics, enabling you to carve out your own piratical identity within the world. Less documented is ship customisation, which Rare's new dev video shows in more detail.
By visiting a shipwright at an island outpost, you'll be able to purchase and equip new hull and sail liveries, as well as new figureheads - with the video demoing everything from regal lions and a sombre Neptune to jaunty skulls and wooden sharks. There are ample hull and sail colours, patterns, and emblem variants on show too.
Interestingly, earlier data-mining also suggested that it would eventually be possible to customise a ship's cannons, capstan, masts and wheel - although these specific elements aren't mentioned in the video.
As Rare's Ted Timmins explains, "It was really important to us that for launch, when you see a particular sail on the horizon, that it has a meaning... you might have heard about that crew. And therefore [ship customisation] kind of shows a sense of stature in the world".
To that end, ships will be customisable on release - with the video also confirming that players will be able to own their own ships post-launch.
It's not entirely clear what this means, but it could be a reference to Sea of Thieves' fascinating-sounding later-game, in which crews can obtain Legendary status, and gain access to their own ships, secret hideouts, and exotic quests to embark on.
There'll doubtless be more answers as Sea of Thieves' March 20th release date approaches. In the meantime, those curious to try their hand at a life of piracy and plundering, can join in the current beta-style Stress Test on Xbox One and PC, which runs until Sunday March 4th.