Rare offers first look at Sea of Thieves' major new Anniversary Update, arriving next month
Fishing! Harpoons! Story quests! Crabs?!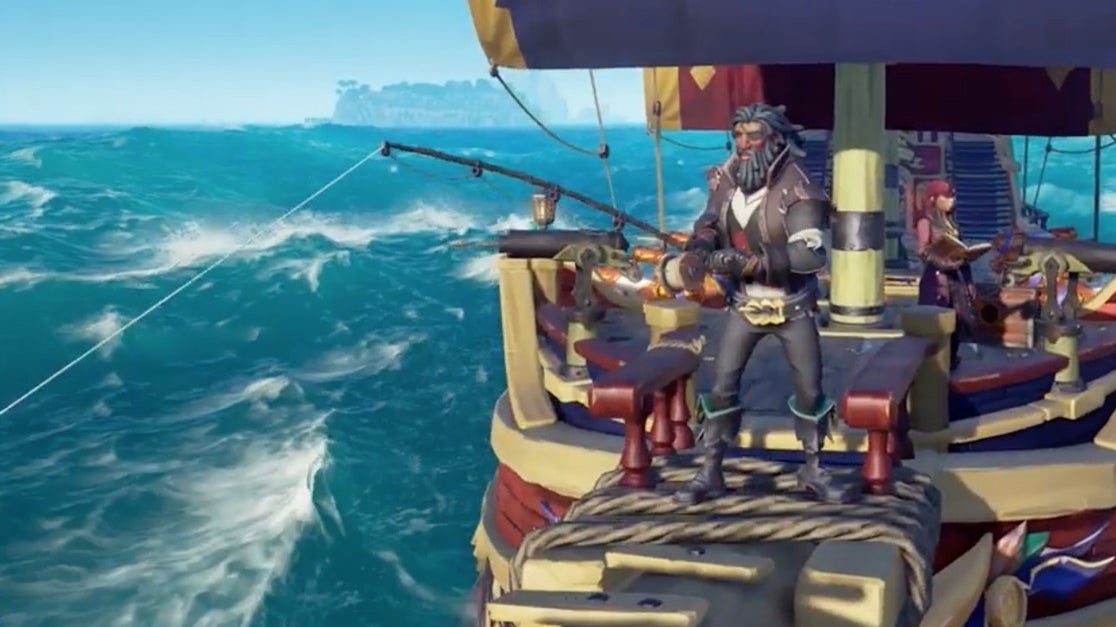 Sea of Thieves is one today, don't you know, and, to celebrate, Rare has unveiled the multiplayer pirate adventure's next big free content expansion. It's called the Anniversary Update, and is coming on April 30th.
Prior to unveiling its official title, Rare has referred to the expansion as a "mega update" and, based on today's reveal, that seems entirely apt. The Anniversary Update is split into two main segments - the new standalone PvP-focussed Arena mode, and a sizeable update for the core Adventure mode, known as Tall Tales: Shores of Gold - with plenty going on in both.
Observant sorts scrutinising the trailer below will no doubt notice that fishing (both on boat and on land) very much appears to be in, and Rare's accompanying Anniversary Update webpage explains that this, along with cooking, is part of the new Hunter's Call Trading Company, offering special rewards and a new path toward Pirate Legend.
Cooking, incidentally, sees players hunting down monsters and frying them up to please the head of the Hunter's Call - our old friend from The Hungering Deep, Merrick. Presumably, the new ship-based harpoon gun (which can be used to swipe treasure or make "surprising manoeuvres") will come in handy for hunting prey such as the mighty megalodon - although I'm curious to know if it works against enemy vessels too...
And on that subject, seafaring combat will be getting some major enhancements in the form of location-specific damage for ships - with well-aimed cannonballs apparently able to destroy a rival boat's mast, wheel, or capstan.
Elsewhere, the Anniversary Update brings a series of new narrative-based adventures, under the banner Shores of Gold, "delving deeper into the lore of our favourite pirate paradise". These, says Rare, will take players to "undiscovered places" and reveal "surprising new gameplay features", and are apparently only the first in the Tall Tales series.
There are glimpses of these in the trailer, with pirates seen using strange devices to actually open chests, as well as searching for clues in the stars, and even encountering deadly traps in gloomy caverns. In fact, a few preparations for the latter already seem to be in-game, if the suspicious renovations I spotted at Sailor's Bounty the other day are anything to go by. Oh, and is that cheerful-looking crab one of the new pets supposedly arriving alongside the update?
It all sounds extremely exciting, and it's going to be long wait until April 30th. Thankfully, impatient pirates have a number of new activities and treats to tide them over as part of today's separate Sea of Thieves birthday update. This introduces some new celebratory, limited-time items - a golden hat and golden cannon - that can be purchased from all outposts for 320 gold apiece. Additionally, everyone that played during Sea of Thieves' first year will find the new Captain Bones' Original Pirate Cutlass in their armoury.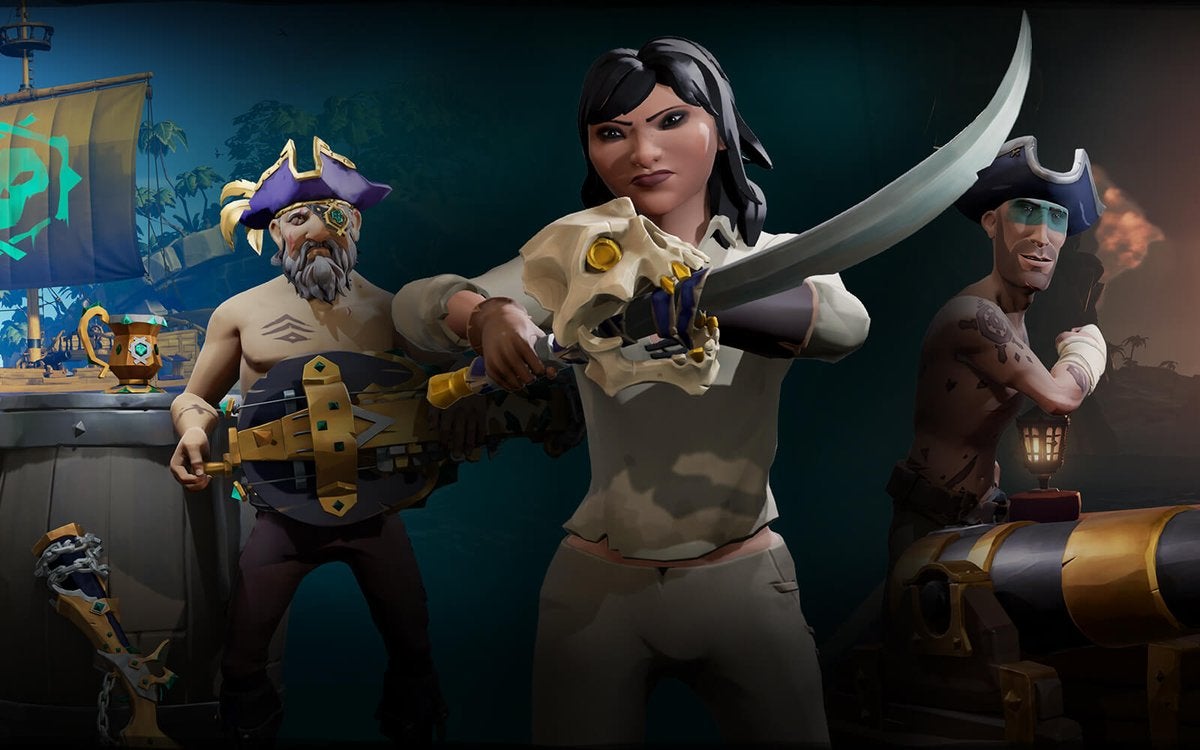 Meanwhile, those brave souls that managed to reach Pirate Legend status prior to today have a huge haul of goodies to look forward to. There's the the Golden Legendary Tankard, Golden Legendary Hurdy-Gurdy, Golden Legendary Blunderbuss, Golden Legendary Sails, Golden Legendary Hull, and Golden Legendary Figurehead - although Rare notes that these may take a few days to show up in players' stashes, if they only recently joined the legendary ranks.
Elsewhere, there's a new set of Mercenary Voyages (one PvP-focussed and two for more relaxed pursuits) with accompanying limited-time rewards in the form of the Shipwreck Reaper Sails, Mercenary Eye of Reach, and Mercenary Blunderbuss. There's also a special Gilded Mercenary Voyage of Legends for eligible pirates, offering boosted Athena rewards.
And we're still not done! The Molten Sands Fortress is now active in the Devil's Roar, meaning that fearless players can take on the Skull Fort challenge in the shadow of a rampaging volcano, plus the previously promised Mercenary cosmetics are now available for purchase.
Today's update also brings mouse, keyboard, and chatpad support to Xbox One and, finally, Rare notes that eagle-eyed players might spot some building activity around the mysterious arch at the centre of the map. Full details can be found in the latest patch notes.