Puyo Puyo Tetris 2 is out later this year with a new adventure mode
The sequel will reportedly include a "zany story, unlockable content, and overworld map".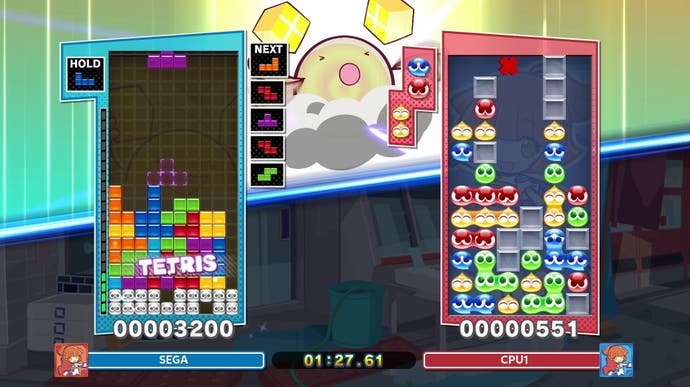 Sega has announced Puyo Puyo Tetris 2 will feature an all-new adventure mode when it releases on 8th December 2020 for Nintendo Switch, PS4, Xbox One and Xbox Series X. The PS5 version is coming at the "end of 2020".
The sequel - which will reportedly include a "zany story, unlockable content, and overworld map" - features a new story that reunites you with Ringo, Tee, and "a lovable cast of returning and new characters", as well as a progression system during the new Skill Battles and a new Adventure Mode.
The new Adventure mode features an overworld map in which you can "navigate from stage to stage along branching paths and optional levels in a new overworld map, and replay stages freely for higher scores and better rewards". A separate shortcut menu also lets players "access stages, check-in on overall star progress, and more".
There will also be Skill Battles in adventure mode where players can "utilise the play style they prefer in Skill Battles, earn EXP to level up character stats, and experiment with different difficulty levels based on the team's strength" after which they can take their skills to Skill Battle mode.
"The worlds of Puyo Puyo and Tetris have merged thanks to a mysteriously powerful being known as the Dimensional Parasite," the press release tells us. "With this threat looming, Ringo, Tee, and friends must traverse the world to pop Puyos and clear Tetriminos to rescue their pals from a dark corruption.
"But they'll quickly learn that there's more to their quest than meets the eye when they face the Dimensional Parasite, with new mysteries and clues to uncover as their out-of-this-world journey unfolds."
Players that pick up the game on current-gen systems will be able to upgrade to Xbox Series X and PS5 for no extra cost, providing the latter is bought digitally, and is available to pre-order now.