Psychonauts developer Double Fine making fan-funded adventure game
UPDATE: Hits magic $400,000 mark in less than a day.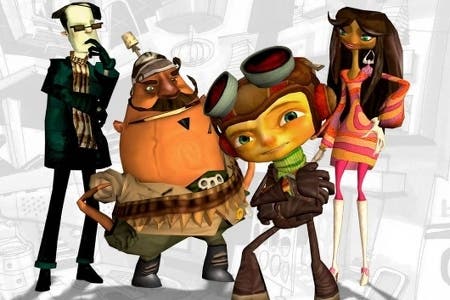 UPDATE: Double Fine's adventure game will be made - it's just shot past the magical $400,000 goal it set itself last night.
The $400,000 barrier was breached just after 10am UK time on Thursday, 9th February - with 33 days to spare.
"$407,470. I love you, world. Double Fine fans are the greatest fans in the whole world. Your gonna make me cry. :) :) :)" wrote an emotional Tim Schafer on Twitter.
"Let's keep funding this thing until it becomes a monster. All the money goes into making the game and documentary better.)"
How much will be raised when all is said and done?
UPDATE: Psychonauts developer Double Fine Productions is making a fan-funded adventure game.
It's using Kickstarter.com to raise $400,000 - the minimum required to make the dream a reality.
Double Fine's Tim Schafer, one of the chief architects of the adventure game genre, announced the project last night.
At the time of publishing, $297,846 was raised - with 33 days to go.
"This is a game for adventure fans, funded by adventure fans," Schafer said in a promotional video on the Kickstarter website.
"If you back this Kickstarter project, you will be cool, and everybody will like you."
Kickstarter allows anyone to make a donation to the game development fund, but Double Fine has made available premium pledges for those with the cash to splash.
Donate $15,000 or more and you'll score dinner with Tim and key members of the development team. $20,000 or more gets you dinner and bowling with them. $50,000 or more and you become a character in the game.
Give $150,000 or more and Schafer will give you one of the last four remaining Triangle Boxed Day of the Tentacles, in original shrink-wrap.
The game is expected to be a truly collaborative process, with fans who donate involved deeply in development.
And video game documentary makers 2 Player Productions will film the entire journey, putting video after video on the internet for those who donate to enjoy.
The finished game will be released on PC via Steam. Donate and you'll get exclusive access to the beta, the video series and a private discussion community.
Wait, they've now raised $306,806. This won't take long.