PlayStation Move unveiled
The PS3 motion controller. Wand, sub-controller, pricing, games, photos and screenshots.
Sony has announced that the PlayStation 3 motion controller is officially to be called PlayStation Move.
Exact pricing and bundling information will follow soon, but in the meantime we've been told that the Move controller, PlayStation Eye camera and a starter disc with game demos will be bundled for under $100 this autumn.
Other deals will include a standalone controller for people who already have PS Eye; a full console pack, which includes PS3, DualShock 3, Move and PS Eye; and a range of game-and-controller bundles.
Check out our PlayStation Move photo gallery to see what it looks like these days.
The main controller features a three-axis gyroscope, three-axis accelerometer and a terrestrial magnetic field sensor. It weighs 145g and is 200mm x 46mm.
It has a colour-changing sphere, which is tracked by the PlayStation Eye camera, supports rumble, and has action buttons and an analogue trigger.
Sony will also release a smaller PlayStation Move "sub-controller", which is a one-handed device with a "sleek curved design that pairs with the motion controller", and which has its own analogue stick and directional buttons.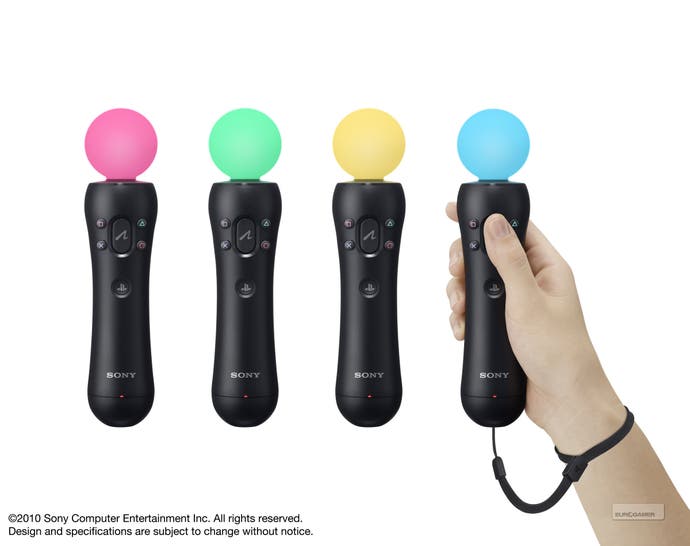 The sub-controller weighs a mere 95g and is 138mm x 42mm. (You can tell we scrolled the whole way down the press release on this one.) It will be possible to play through the whole of SOCOM 4 using a Move-and-sub-controller combination.
Like the Sixaxis and DualShock 3, the controllers have built-in lithium-ion rechargeable batteries and sync with PS3 via Bluetooth.
Sony said it will back the launch with "more than 20" games that either use or support Move by the end of its fiscal year on 31st March 2011.
Several of the games were shown off on-stage during Sony's GDC conference keynote. Check out the live text transcript of the conference to learn more about them.
Sony's GDC press kit includes screenshots of a number of games with Move support. Check them out:
Sony also revealed that 36 developers and publishers are supporting Move, although its list does include Tecmo and Koei separately.
It also has Sony Online Entertainment on it, which is surely a given. "Hi Kaz, it's Kaz, will you support Move?" "Hi Kaz! I'd love to! Sincerely, Kaz."
The full list of supporting companies follows.
505 Games
Activision
AQ Interactive
Arc Systems Work
Atlus
Bigben Interactive
Capcom
CCP
Crave Entertainment
Cyberfront
Disney
Electronic Arts
FromSoftware
Game Republic
Gust
Hudson Soft
Irem Software
Koei
Konami
Majesco
Marvelous Entertainment
Namco Bandai
Ongakukan
Oxygen Games
Paon Corporation
Q Entertainment
Q-Games
SEGA
Sony Online Entertainment
Spike
Square Enix
Tecmo
THQ
Ubisoft
Warner Bros.
Zoo Entertainment