Project Zomboid is getting co-op map making
You're gonna need bigger brains.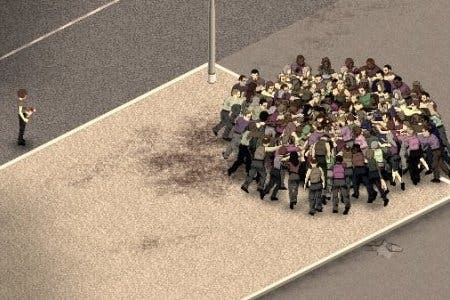 Project Zomboid is getting a new Creative Mode.
Creative Mode is designed to help players build maps for the zombie survival role-playing game faster than they have been able to in the past, developer The Indie Stone said.
"In essence, it lets you edit the map in any way you can imagine," the developer said.
"You can use any buildings or other map pieces available: whether you're subscribed to them on Steam Workshop, copying and pasting them from the existing PZ map or creating them yourself."
You can create extra buildings, districts and complete towns and cities, and share your creations to the Workshop. Anything you're subscribed to will automatically be available to place within Creative Mode.
What's cool is Creative Mode works in online multiplayer, so players can get together to build an entire town on their server before playing it.
The Indie Stone plans to roll out Creative Mode in parts. The first version, set to arrive as part of Build 33, contains the basics. Additional tools will be added in the future.
"It's our dearest hope that by empowering everyone and anyone to make map content and share it via the Steam Workshop, and in making the process of building as fun and as co-operative as we possibly can, we'll foster a new community of building-obsessed doozer players and a flood of new map content," the developer said.
"Every player's game world could potentially be many orders of magnitude bigger than the current Zomboid map, and potentially completely unique to them, or their server and their community.
"Then if all servers have their own unique maps, who's to say we couldn't see about giving them an option to have their borders connected one day?"
Check out Creative Mode in the video below.