Blinx 2: Masters Of Time
First details and first shots: The grinning time warping cat returns to the Xbox this Christmas.
Blinx 2: Masters Of Time will be part of Microsoft's Christmas Xbox line-up, the Redmond giant announced this morning, and purports to be the " world's first 5-D game, giving players control over both Time and Space". Bold claims indeed.
Let's do the time warp again
Former Sega types Artoon is once again tasked with the development, and has thrown in stealth, enemy control, two player co-op, four player battles, as well as customisable characters to add to the time warping kleptomaniacal platforming gameplay at its core.
Once again, the game relies upon the player to collect different coloured Time Crystals in order to perform different time bending functions; rather like the functions of a video recorder, you can meddle with the time in any direction, as well as slow it down or even stop it completely. This time, though, it's not just about Blinx - he can take control of the enemy pigs "to gain control of the space continuum"
A co-op mode worth playing?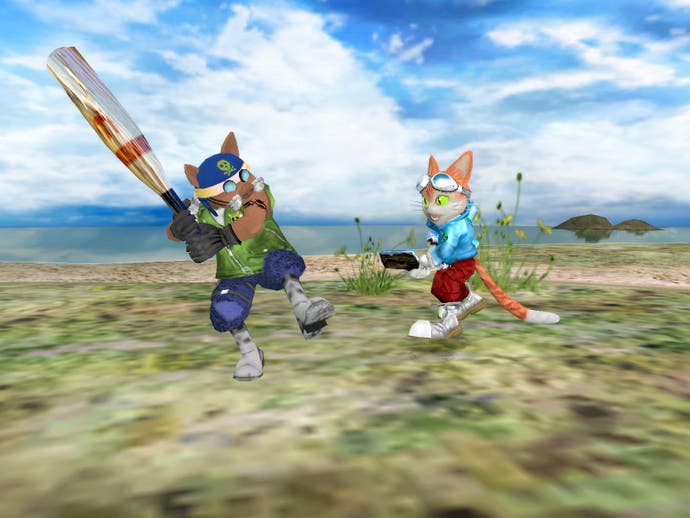 Cunningly, the co-op mode won't simply be a run through the story campaign, but actually up the difficulty and provide specific co-op challenges, requiring, Microsoft says "strategy and teamwork". In addition, co-op grants "unique map locations" only available in this mode.
Multiplayer Battle mode, meanwhile, involves "leading a squad of cats using time control powers or command a team of enemy pigs using space control powers".
Microsoft reveals: "Whether they are playing through single player missions or any of the multiplayer modes, players can fully customise their cats and pigs by designing the character's face, body and clothing."
A gem of a platformer?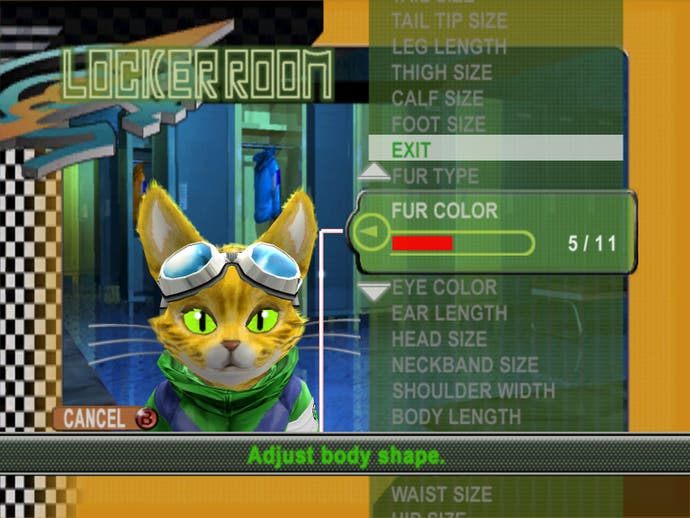 The original Blinx certainly excelled on the visual front and had some good ideas, but they were massively overhyped. This one sounds a little more promising, and we remain cautiously optimistic that as long as Artoon can sort out the dreadful camera issues and provide a gentler learning curve that Blinx 2 can finally provide Microsoft with the character platform gem that it has been searching for.
So far, just three screenshots of Blinx 2 have been released. The first reveals the character design of the aforementioned pigs, with Blinx looking rather like he's trapped inside some sort of love bubble (help me out here!). The second shows Blinx wielding his trademark vacuum cleaner, ready to suck the life out of a baseball bat wielding pig monster, replete with skull and crossbones bandana and comedy whiskers.
The final shot reveals the character customisation screen, and shows off just how many means there are of tweaking the character to your precise design. No fewer than 14 attributes can be meddled with, including fur type, neckband size, body length, and just about everything under the sun - which bodes well for some amusing creations if nothing else.
As soon as we get playable code, we'll be sure to give you the full run down of how Blinx 2 is shaping up.