Pokémon Let's Go Pikachu and Eevee needs an online subscription for key features
To battle and trade online.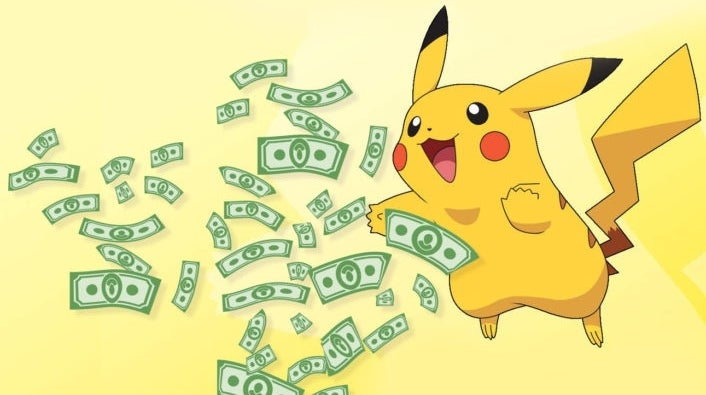 You need to buy a Nintendo Switch Online subscription to trade Pokémon or enter online battles in Pokémon Let's Go Pikachu and Eevee.
The Switch is, of course, the first Nintendo console to feature an online subscription paywall, which is finally set to begin this September. So, it is also the first time you will need to pay up to battle or trade online in a Pokémon game.
In a statement issued to Eurogamer today by The Pokémon Company, the need for an online subscription with Pokémon Let's Go Pikachu and Eevee is made clear. Additionally, the statement clarifies that the games will offer a trimmed down set of online features from previous mainline Pokémon games - with no global trading system or Battle Spot functionality.
"Pokémon: Let's Go, Pikachu! and Pokémon: Let's Go, Eevee! will have online play functionality. Battling and trading with other players over the internet or locally will be available in these games," a Pokémon Company spokesperson said.
"However, the feature set will be somewhat simplified in comparison to previous games in that there is no GTS, Wonder Trade, or Battle Spot (Rating Battle, Free Battle, and Online Competition, etc.) for example. Further details will be revealed at a later date.
"An active membership for the Nintendo Switch Online service, which is scheduled to begin in September of this year, will be required to access these features."
The lack of a global trading service is perhaps due to the fact it looks like Pokémon Let's Go Pikachu and Eevee will focus only on the series' first generation of Pokémon - meaning there are only 151 to collect.
The dialling back of online battling is more of a surprise - especially as Nintendo has chosen to envelope Pokémon Let's Go Pikachu and Eevee within the Switch's online pass.
A year's subscription to the service costs £18/€20/$20 per Nintendo Switch user, although other options are available. For this you get to play games online and access a library of NES titles with added multiplayer. You can also back up your game saves to the cloud.
On announcing the Nintendo Switch Online service, Nintendo gave itself some wiggle room by stating that some Switch games would require the premium sub. Alas, we now have confirmation Pokémon Let's Go Pikachu and Eevee are not among those exempt.