Pokémon Go raid battles launch, currently locked to players level 35+
UPDATE: Now playable for users with accounts level 25 and up.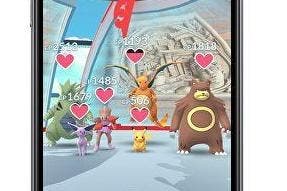 Update 3: As we enter the weekend the requirements continue to drop, with user accounts at level 25 and above now eligible to participate in Raids.
It's also worth noting there has been significant changes to how PokéCoin drops work, too. In case of any further changes to either Raid level requirements or PokéCoins, the prior links to our guide pages should keep you up to speed.
Update 2: It's happening again! Niantic has lowered the raid barrier to entry to 28. Nice!
The requirement may continue to drop over the weekend,
Update: Less than a day after Raids have debuted for a small subset of users, Pokémon Go developer Niantic has announced they will be playable for those with Trainer levels 31 and above:
Original story: Pokémon Go's big update has been out in the wild for a couple of days, but it's only in the last few hours that its big raid battles have been switched on.
Most players won't see them yet, however. The much-touted feature is currently only available for players at level 35 or above - a small fraction of those playing.
"Trainers level 35 and above: you can now participate in raid battles at select gyms around the world," the official Pokémon Go Twitter account stated this morning.
"Over the next few days, we'll invite more players to participate in raid battles at even more gyms around the world," the account added. "Stay tuned for updates!"
We got the chance to go hands-on with Pokémon Go raids at E3, in a sunny carpark around the back of the convention centre.
The feature will eventually be the route to obtaining Legendary Pokémon - although the process to do seems tricky, to put it lightly.
Players lower than level 35 can still take advantage of the returned, reworked gyms, which now have a number of new features. Pokémon in a gym have a stamina gauge which seems easier to wear down - but also easier for a team to defend by feeding their Pokémon berries.
You can now also nab gym badges for interacting with a gym - attacking or defending. Gyms now act as Pokéstop locations. Indeed, some old Pokéstops have become gyms over the past couple of days.
For more on raid battles and gym badges, Eurogamer has extensive helpful guides. Are you heading back to the app this weekend?