PlayStation Vita midnight launch: cosplay and commitment
Around a hundred customers queue.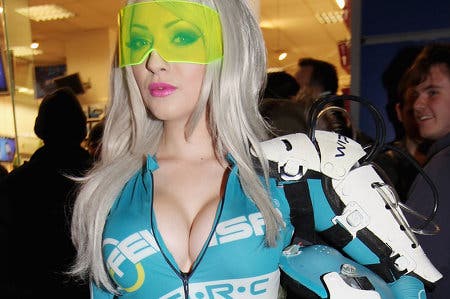 A committed fan and some skin-tight cosplay were the main features of Sony's official PlayStation Vita launch event, which took place last night at GAME's London Oxford Street store.
Demand for the machine was steady, if not bustling - around a hundred customers lined up to get their hands on Sony's new hardware by midnight, although the queue only really took life within the last hour.
An exception to that was 21-year-old Zohaib Ali, who had been been waiting in line since Sunday and stood front of the queue. A hardcore gamer and veteran of midnight store launches, Ali had gone home to sleep each night, his place held by one of his carers before he duly returned each morning.
His dedication to being first in the queue won him a copy of every PlayStation Vita game for the next year.
Also in attendance was Ami Ledger, who works in the Format QA department at Sony Studio Liverpool. (Thanks Halo.Jones!) She signed copies of the game while dressed in a form-hugging WipEout pilot suit.
GAME's flagship store was decorated in blue Vita livery for the occasion, which came on the same day the shop chain confirmed it would not stock Ubisoft's range of Vita titles.
Despite this, boxes for Ubisoft launch line-up of Lumines, Michael Jackson, Rayman: Origins, Asphalt Injection and Dungeon Hunter Alliance were all still visible on shop shelves. GAME confirmed these were for display purposes only, however.