Planescape: Torment Enhanced Edition announced for iOS, Android, PC and Mac
UPDATE: Releases 11th April.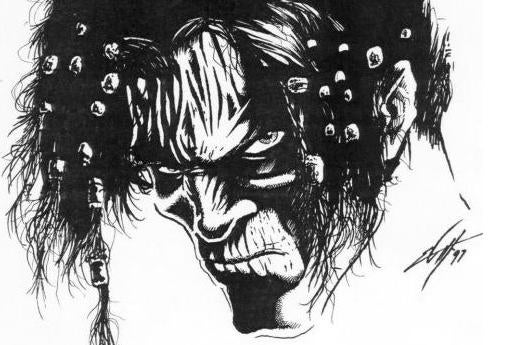 UPDATE 29TH MARCH: The Enhanced Edition of Planescape: Torment will be released 11th April on PC and Mac for £15. Mobile Android and iOS versions are "coming soon" and will cost $9.99.
What will the Enhanced Edition have that modded versions of Planescape: Torment currently do not? "Lots!" answered the official website. "A new interface rebuilt for 4K, better compatibility with modern hardware, no loading times between areas, a remastered musical score, and great Enhanced Edition features like quickloot, zooming, floating combat log, widescreen support, and more. And, of course, less hassle because you don't need to mod your game to get it running properly."
What exactly has Chris Avellone, lead designer of PST, done for the Enhanced Edition? "He reviewed and approved all user interface adjustments and did an editorial pass of all the text in the game," said the website. "In addition, in the few instances where new text was needed (ie. additional journal entries and special ability descriptions), Chris wrote the text himself."
The Planescape: Torment Enhanced Edition FAQ goes into deeper, specific detail about the changes.
ORIGINAL STORY 28TH MARCH: An Enhanced Edition of Planescape: Torment has been announced. It means the famed old role-playing game is coming to iOS and Android at long last, as well as PC and Mac.
The developer is Beamdog, maker of the Enhanced Editions of Baldur's Gate 1 & 2, and Icewind Dale. The project enlisted the help of Planescape: Torment lead designer Chris Avellone, who curated the updates used in the enhancing.
The Planescape: Torment Enhanced Edition website isn't live yet - the countdown hasn't ended - so all information comes from a video released. It documents obvious resolution changes for today's screens but doesn't specify updates beyond that.
Remember, Planescape: Torment is already available via GOG, so it works on modern machines, and costs £8. Beamdog's Enhanced Editions cost £16, but they take care of all the modding - selecting and implementing - for you.
The Enhanced Editions of Baldur's Gate 1 & 2 were good but not essential for that reason, really. Our Baldur's Gate: Enhanced Edition review, and Baldur's Gate 2: Enhanced Edition review will tell you more.
Planescape: Torment, getting back to the point, is an all-time great - remembered for its deep, philosophical themes, weird setting and odd assortment of characters. Not so much for its fiddly Dungeons & Dragons gameplay. I recorded a Planescape: Torment podcast with Chris Avellone and others a few years back.
The Torment series recently expanded with Torment: Tides of Numenera, a follow-up our review Recommends, but one that doesn't unseat PST from the series' throne.
Will you support Eurogamer?
We want to make Eurogamer better, and that means better for our readers - not for algorithms. You can help! Become a supporter of Eurogamer and you can view the site completely ad-free, as well as gaining exclusive access to articles, podcasts and conversations that will bring you closer to the team, the stories, and the games we all love. Subscriptions start at £3.99 / $4.99 per month.