Planescape: Torment: a podcast post-mortem with the game's makers
An hour with Chris Avellone, Colin McComb, Adam Heine and Scott Warner.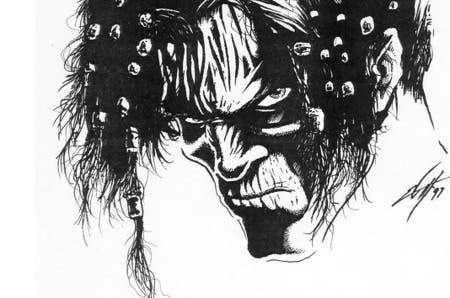 Why only post-mortem new games? Why not, say, reach back in time for one of the best-loved role-playing games, try and track down the key people involved, and gather them for an hour-long chat and post-mortem?
Maybe they haven't spoken in a long time. Maybe they've got a new perspective on what they once created because of the path their life took since then. And maybe it's just nice to reminisce.
Why not, indeed. And so I present to you an hour-long Planescape: Torment post-mortem.
My guests:
Chris Avellone, the lead designer of Planescape: Torment, and currently chief creative officer at Obsidian Entertainment
Colin McComb, Avellone's second, if you like - the second designer on Torment after McComb's own PlayStation Planescape game "got rolled up into it". Now commands an iPhone App company called Three Pound Games, and also writes the Oathbreaker series of fiction
Adam Heine, scripter on Planescape: Torment, now living in Thailand "fostering 10 billion kids" and writing science fiction and fantasy for young adults (the final post on the official Planescape: Torment website concerns Heine's departure, and it's written by...)
Scott Warner, then a junior designer on Planescape: Torment. Now, lead designer of Halo 4
I straddle time-zones to steer my very special guests on a jolly voyage of memories. We sail into the stormy seas of critical reception - "I actually thought a 7/10 on Eurogamer at the time was exceptionally high," said Avellone - and consider Torment's greatest failures. We throw anchor and dive into the lasting memory of Planescape: Torment, and why it is that people keep referring back to it as one of the greatest RPGs that was ever made. And we navigate onwards and hear ideas that didn't make it into the game.
"I actually thought a 7/10 on Eurogamer at the time was exceptionally high"

Chris Avellone, lead designer, Planescape: Torment
We also talk about what it was like building a game like Planescape: Torment. What was the process like, what were the arguments, what were the highs and lows? Colin McComb said developing Torment "was one of the best experiences of my life", and as the conversation rolls on, I understand they're reflecting on not only a golden end product, but also a golden time they had while making it. One of Scott Warner's fondest memories was "opening the door in the morning and Colin's head would [be there]" - a by product of the effort he was pouring in.
Our voyage also takes us on to more pertinent topics like storytelling in games. "Honestly," McComb said, "I don't see a whole lot of evolution in game storytelling over the past decade ... A lot of stuff just feels like it's ignoring a lot of progress. I get that - it's hard to take chances, especially when you've got millions and millions and millions of dollars on the line." Fortunately, we also had Scott Warner on the line - a man making one of those big budget games. He agreed with McComb; "I wish there would be more games that would take more risks like Planescape does," he said. And for him, that risk, that potential, will be unlocked by the exciting evolution of conversations in games.
We also consider the mouth-watering prospect of a Planescape: Torment successor funded via Kickstarter - something Chris Avellone recently publicly considered. He even shared ideas for a successor with Kotaku just days ago.
I invite you to sit back, relax, and be whisked back to 1997, to the creation of Planescape: Torment. While doing so, you may want to pour over the original and very entertaining design document for Planescape: Torment, consider buying Planescape: Torment on GOG or browsing some accomplished fan-made Planescape: Torment art.
Other relevant reading: Eurogamer's original Planescape: Torment review, and our 2009-published Planescape: Torment retrospective.