Petroglyph shows off "survival RTS" Conan Unconquered in new video
Inspired by Frostpunk and They Are Billions.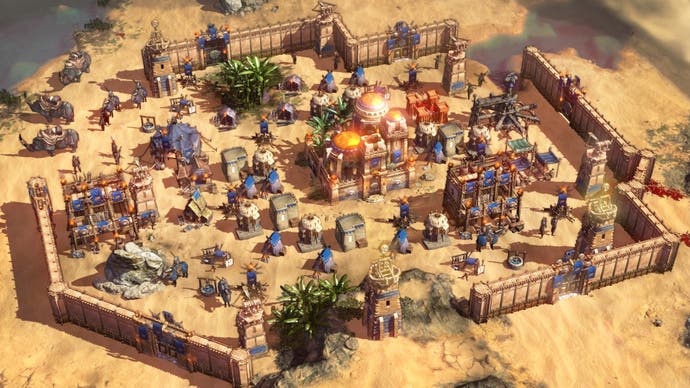 Petroglyph Games has released a new video offering a closer look, with first gameplay footage, of its "survival RTS", Conan Unconquered, due to release on PC later this year.
Petroglyph is, of course, the team responsible for the likes of Star Wars: Empire at War and EA's upcoming Command & Conquer remasters, with many of its members having worked on the original Command & Conquer series at Westwood Studios back in the day. That alone is reason to be interested in Conan Unconquered, but its new trailer shares a few more details about what to expect from the experience.
According to Petroglyph, Unconquered's development was inspired by "other experiments going on in the RTS genre right now", including 11 Bit Studios' Frostpunk and Numantian Games' They Are Billions. As such, says Petroglyph, Conquered isn't a "traditional" real-time strategy game, and features "a lot of spinning plates... to worry about".
Not only are players tasked with building up a stronghold and expanding their army, there's the constant threat of environmental challenges - such as disease, sandstorms, and fire - alongside marauding enemy forces, which attack in massive, progressively more difficult, waves.
Unconquered can be played solo or in two-player co-op (where participants are able to manage separate elements, but must fend off considerably more difficult challenges), and the goal is to see just how long you can hold out and remain, yes, unconquered.
Petroglyph says that Unconquered, which is set within Conan's Black Colossus storyline, features a lot more simulation than in its previous games. There are, it explains, a lot of resources to deal with (food, gold, wood, and iron have been mentioned previously), and the layers of strategic complexity come from prioritising which you'll gather around the procedurally generated map in order to fuel different areas of expansion, all while struggling against environmental challenges and those ever-worsening enemy waves.
Conan Unconquered is being published by Funcom and will launch on PC in "Q2" this year.