Peter Molyneux shares first details on workshop-tinkering industrialist sim Legacy
Inspired by 1984 game The Entrepreneur.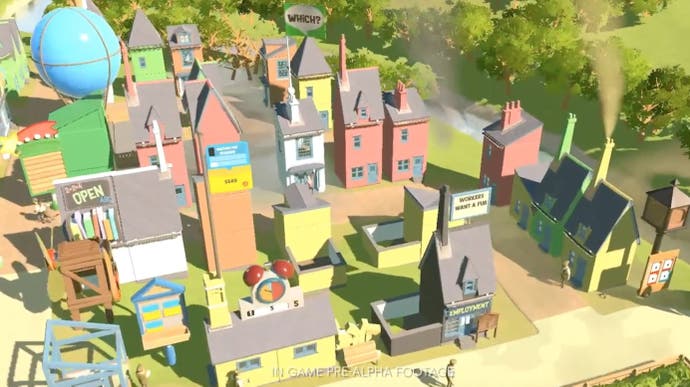 Peter Molyneux's 22Cans studio has shared first details on its latest game, a sort of creativity-focussed, workshop-tinkering industrialist sim called Legacy.
Legacy is 22Cans' fourth title, following on from the fairly well-received hiking oddity The Trail, the ill-fated Godus, and the largely inexplicable cube-prodding weirdness of Curiosity. Its unveiling comes via a lengthy, if somewhat light on detail, video reveal from Red Bull Gaming, which you can see below.
In the video, Molyneux explains that Legacy is inspired by his first-ever game, The Entrepreneur - a sim, released in 1984, about growing a business. Legacy fleshes out that early idea, initially casting players as small-time inventors squirrelled away in a garage workshop.
What follows appears to be a game of two distinct, but interlocking halves. The first, unfolding directly within the workshop, emphasises creative freedom. Here, players are able to combine various pre-fabricated building elements to create anything that takes their fancy - whether that be a toy bear, a telephone, or something more outlandish. At a certain point, however, Legacy shifts gears and turns into an experience more closely resembling an industrialist sim.
Once those early inventions begin to sell in sufficient numbers, players will need to start focussing on expanding their business empire, hiring workers, securing resources, and building factories to keep up with public demand. Eventually, certain moral conundrums will emerge, forcing players to make decisions about whether they're a good employer or bad employer as they climb the ladder toward corporate supremacy.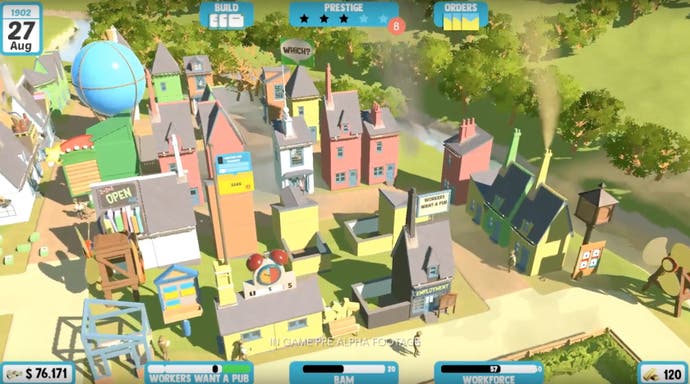 And that's pretty much all that's been revealed so far. As such, it's kind of hard to get a sense of Legacy's final form, and whether it's aiming more toward novelty tinkering, richer business sim, or some strange spot in-between. Its basic premise sounds solidly appealing though, and its bold, colourful art style is a delight. Hopefully the underlying game can do justice to them both.
There's no release date for Legacy yet, but early word seems to suggest it's aiming for launch on PC and mobiles first, with other platforms to follow.