Peter Molyneux demonstrates Project Godus multiplayer on video
UPDATE: Fully funded! Ouya support stretch goal at £550K.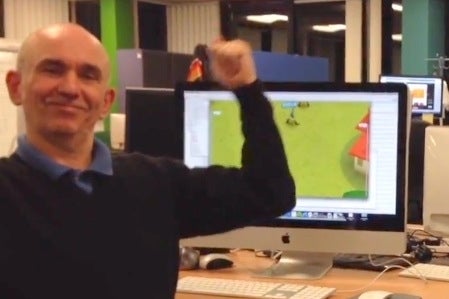 Update: Godus has just crept over the finish line with a current tally of £450,677 pledged of its £450,000 goal. It's got 44 more hours to go before the 5:50 p.m. GMT deadline on Friday.
Newly added stretch goals include three additional single and multiplayer game modes at £460,000, Black & White writer James Leach will pen the story at £485,000, team-based multiplayer and first-person world crafting will be added at £500,000, and 22cans will include Ouya and Linux support if the Kickstarter reaches £550,000.
Original story: Peter Molyneux and 22cans are throwing everything at the Project Godus Kickstarter as it struggles to reach its £450,000 goal with 57 hours to go. This time the two-week prototype build of the game we saw yesterday has been used to power a multiplayer match between Peter Molyneux and designer Jack Attridge. Is Molyneux a bit too whimsical to be any good at games?
The demo offers a glimpse at some basic tactics, not dogs. Molyneux quickly concentrates on his altering his terrain, and his tactic pays off when a follower builds on higher ground because this speeds breeding.
Terrain comes into play later when Attridge scrolls across the map and starts messing up Molyneux's settlement, much to the old Populous creator's dissatisfaction.
The demo ends with the two swollen sets of followers stampeding towards each other for a good dust up. Molyneux declares himself winner before the battle proper begins as he has a larger amount of followers.
It's a basic demo of an impressive two weeks' work, but it doesn't really stoke the excitement engine. I can only look at the plans for the volcano god power and imagine what might be.
£415,678 now and 56 hours to go.