PES 2018 review
A season of rebuilding.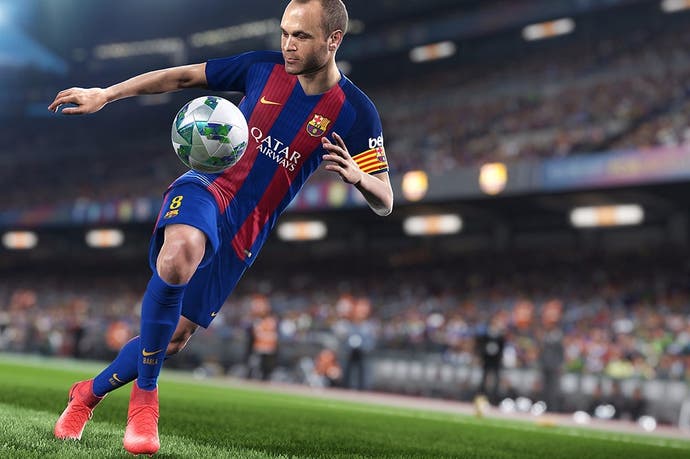 A timely overhaul that should take a great game to new heights - though it's not quite on peak form this year.
When I played PES 2018 earlier this year, the series' global product and brand manager Adam Bhatti told me it was the first game of a three-year cycle; a new foundation upon which Konami's looking to build. For better and worse, it feels like it. There are marked improvements in some areas, but PES's overall game has weakened slightly from last year, like a side that's spent big money recruiting three attacking midfielders during the close season while entirely failing to strengthen their back four.
Which isn't to say it's abandoned all the good work carried out in recent times. Those many refinements that have seen it nudge some way ahead of FIFA on the pitch over the past couple of seasons are still mostly evident. There are more improvements this year: the pace has dropped slightly which fits neatly with the game's crisp and versatile passing. Tighter, more responsive dribbling mechanics let the best players weave their magic, and you only need focus on the left stick to pull off jinks and feints. The ability to shield the ball from markers is extremely welcome, with forwards and midfielders more capable of sticking their backsides out to hold off defenders when receiving the ball with their back to goal, giving them room to lay it off and spin away, ready for a return pass.
Other changes produce tangibly positive results, but many of them come with unfortunate knock-on effects. There's been a shift towards emphasising the strengths of individual players this year, and it goes well beyond the obvious superstars. So when Aleks Kolarov, for example, hits the ball, it travels like a missile. In the main, this is a good thing: it makes sense that wiry forwards can be outmuscled by thickset centre-halves, or that speedy wingers can accelerate away from ageing full-backs. It makes the game more immediately readable against unfamiliar opponents, too: at a glance you'll have an idea of the kind of tactics you should and shouldn't employ, and shifting player positions to target weaknesses often reaps rewards.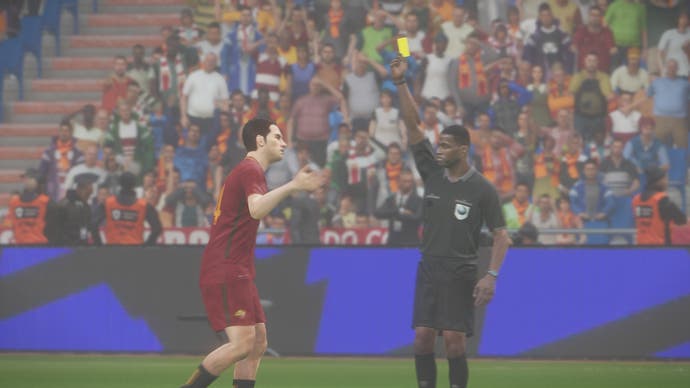 At times, however, you might wonder if individual characteristics have been emphasised a little too much. You might argue that it's up to your opponent to find ways to plug gaps that you've managed to exploit, but against the AI in particular - which is where I personally tend to spend the bulk of my time with PES - you'll find certain strategies to be a little overpowered. Having struggled to score many goals in the preview build, here I won my first game 4-1. My next finished 5-2. It seems easier to both score and concede, which is perhaps partly down to my aggressive attacking style of play, but getting in behind teams that play a more open, expansive game can be alarmingly straightforward.
In theory, while the slower pace should make for more intricate dribbles, as you slalom between defenders, or nudge away from a marker to create a yard of space for a pass, PES 2018 seems to favour a more direct approach. In a Champions League campaign as the mighty Man Blue, I absolutely pasted PSG and Real Madrid home and away, mostly by launching lofted through balls to utilise the pace and guile of Leroy Sane and Raheem Sterling. Occasionally, I'd vary it, using Kolarov on the overlap to ping in hard, low crosses, with Sergio Agüero letting the ball glide across his body before neatly side-footing home. Shooting is both more exacting and unpredictable this year, but sweeping home a ball that's travelling along the ground is a relative cinch.
In some cases, the opposition goalie will be equal to the task, getting down quickly to palm the ball clear, or clasping shots of a more comfortable height to their midriff. Keepers have been a historical problem for PES, particularly for those who take their online ranking extremely seriously, and they're definitely the best they've been for a while. But they're also brazen show-offs, making saves purely for the cameras. When a simple dive will suffice, you'll frequently find them contorting their bodies in curious ways to shovel shots over the bar, or launching feet rather than gloves first at a loose ball in the six-yard box. Sometimes they're freakishly good, plucking 25-yard thunderbolts out of the top corner, but their tendency to parry means that if you pile enough bodies into the box you're going to get plenty of scruffy tap-ins.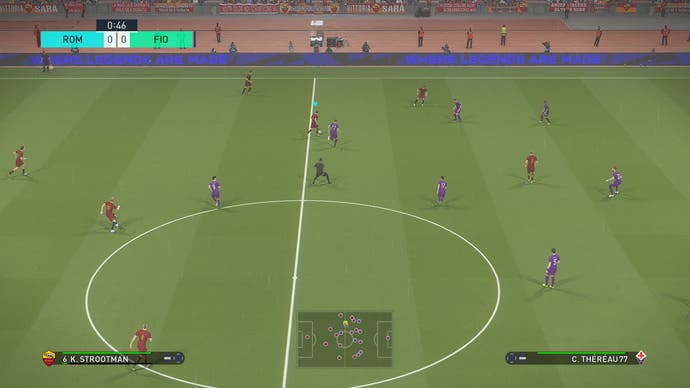 The cumulative effect of these idiosyncrasies - the goalkeepers' tendency to make brilliant saves but their inability to hold onto the ball, defenders that get their body in the way of shots but also hoof clearances into teammates, and the occasionally wonky shooting - leads to an unexpected highlight. It's not the kind of feature you'll ever see Konami advertising, but PES 2018 has some of the series' most thrilling goalmouth scrambles ever. During one such melee, I managed to hit both posts, having one shot brilliantly saved and another hooked off the line, and it's probably the best 15 seconds of gaming I've had all year.
Off the pitch, there's still plenty of room for improvement. Beyond this sentence, I'm not going to mention the old licensing issues, though in 2017 it seems weirder than ever that you have the full kit and caboodle for every Serie A team and yet Juventus fans are stuck playing as PM Black White. The fan-favourite Master League is overdue a proper revamp. And while I'm a big fan of football poet Peter Drury, Konami really needs to do something about the commentary. It does, at least, provide some moments of unintentional hilarity. "You could see he was eager to get a shot away - there was just too much flesh and bone in his path," says a thoroughly bored-sounding Jim Beglin, conjuring nightmarish visions of a match being played against a team of Necromorphs. Meanwhile, Drury's sudden, full-throated shriek of a striker's name as they hit the ball sometimes seems to actively put them off, as if his excitable yelps were booming out from the PA system.
Alas, despite promising signs during the beta, it appears that Konami's netcode still needs some work. Stuttering is a common problem, even if you've set your matchmaking search to only pit you against opponents with a strong connection. It's intermittent rather than constant, but I've lost count of the number of times I've gone to hit a pass and the action has frozen for a split-second, my input failing to register, and the action resuming with my opponent now close enough to intercept my second attempt to release the ball. It's not a new problem by any means, but if the bulk of your time playing PES is spent online, you're in for a frustrating time.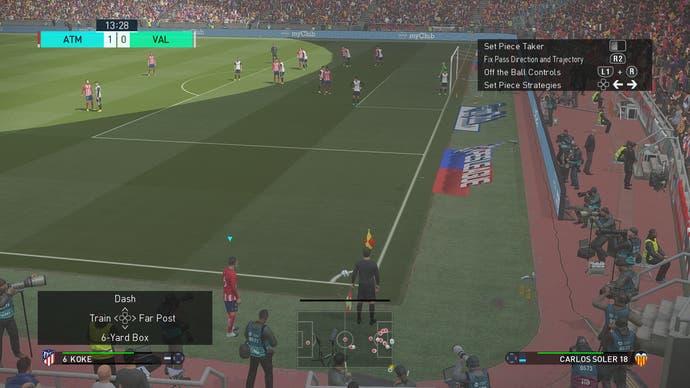 A new three-on-three co-op mode, meanwhile, feels less like a much-requested feature and more like a clumsy attempt at oneupmanship on Konami's part - though having your individual performance ranked gives it a gently competitive edge. But the return of the PS2 era's Random Selection mode is an inspired move. For those who aren't of a certain vintage, this lets you assemble a side picked from four possible player pools, specifying countries, leagues and even individual teams for the AI to choose you a squad. The three best players get a special fanfare, and then there's a round of trading, where you choose a squad member to protect, to stop your opponent from snaffling them, while picking one of theirs to potentially swap in - assuming they haven't blocked you in kind. You also select one player you'd be happy to let go, so if they are gunning for the protected player, they'll end up with your most unwanted. After 90 minutes, you can change the parameters and repeat the process, and have a rematch with completely different teams. It's ideal if you've got a friend over and fancy a few quick matches with a small helping of transfer mind games in between.
It's a simple idea, but it works: a reminder that sometimes it's best to focus on the basics. Right now, PES 2018 feels like a side which has achieved success in recent years, but finds itself under new management, and the incoming boss needs time to truly reshape the team in his mould. There are plenty of signs that, by the end of those three years, this will be something very special indeed - enough, perhaps, to make it truly essential. PES's crown may have slipped just a touch this year, but at its best it still plays a beautiful game of the beautiful game.